Jimmy Kimmel Pulled A NEW Halloween Prank On Kids This Year!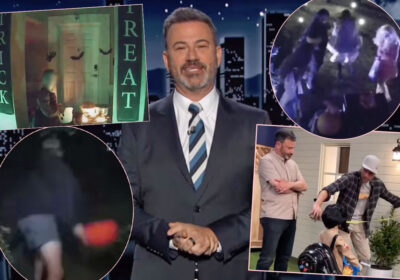 Jimmy Kimmel has a spooky surprise for gluttonous trick-or-treaters!
During Wednesday night's episode of Jimmy Kimmel Live, the late night host brought in the big guns for an extra special Halloween prank that served up unsuspecting kiddos with more tricks than treats!
The 55-year-old teamed up with ex-NASA engineer and current YouTube star Mark Rober — who famously created a high-tech glitter gadget to deter package thieves — to conjure up a way to teach "punk teenagers who steal all the candy from the little kids." Together, they came up with some pretty creative traps, including a silly string launcher, a collapsable table, a fake SWAT "operation," a fake news broadcast, and more! Ch-ch-check it out (below):
A post shared by Jimmy Kimmel (@jimmykimmel)
LOLz! We bet those kids will think twice before taking more than their fair share in the future! Watch the full video on Mark's YouTube channel (below):
This year's prank strays from Jimmy's usual "I told my kids I ate all their Halloween candy" prank, but we think it was worth it. You can see last year's (below):
Reactions, Perezcious readers?? Sound OFF down in the comments!
Source: Read Full Article