Jimmy Buffett's Widow Breaks Silence Following Singer's Death In Emotional Tribute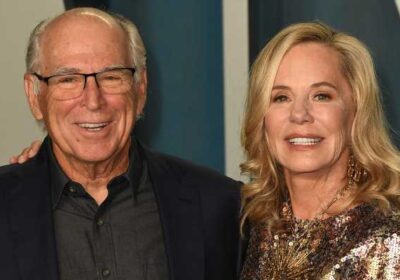 Jimmy Buffett's wife is opening up about his death.
As Perezcious readers know, the musician sadly died earlier this month after a private four-year battle with Merkel cell carcinoma — a rare form of skin cancer. He sadly left behind his wife of nearly 50 years, Jane Slagsvol, who had opted out of public statements regarding the painful matter… until now.
Over the weekend, Jane took to the Margaritaville singer's website to share a lengthy statement in his honor. She began:
"As Jimmy said a few months ago, 'growing old is not for sissies.' These last few years have been unimaginably challenging for Jimmy and me, and we're definitely not sissies. One thing we both knew and experienced, through every difficult moment, was the feeling of being buoyed up by all the people in our lives. Everywhere we went, at arenas, at events, and even in the hospitals, we were surrounded by love. There is a whole world of people I want to thank for the incredible kindness you showed us."
She went on to call her late husband's fans a "big, boisterous family," thanking them for "creating the world's most joyful community." She then turned her attention to the "teams of doctors, nurses, hospice workers, and caregivers" who helped Jimmy throughout his health battle:
"Your compassion was overwhelming in the best possible way. Jimmy listened to everything you said and followed your every order. You gave him hope, even at the most hopeless moments."
Aww.
She then extended thanks on behalf of herself and Jimmy to all the "honorable" people the pair have worked with, explaining:
"You made our lives better in thousands of ways, big and small, each day. That was especially true during these last few years."
We can only imagine how difficult things were for Jimmy and Jane, but it warms our heart to hear that they were surrounded with such support.
Jane went on to thank her friends, writing:
"To my amazing friends, you have expanded the meaning and depth of friendship. Jimmy and I felt your breathtaking love and compassion throughout our lives and, especially, over these past few years."
She added:
"Jimmy was love. Every cell in his body was filled with joy. He smiled all the time, even when he was deeply ill. And his sense of humor never wavered. Jimmy was always the optimist, always twinkling, always making us laugh."
Read her full statement HERE.
So beautifully put.
Our hearts continue to be with Jane, and all of Jimmy's loved ones. Share your support in the comments down below.
Source: Read Full Article