Jeremy Clarkson's girlfriend wows in barely-there bikini during his flight drama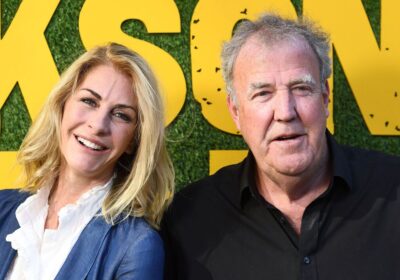 Jeremy Clarkson shares setting in Botwswana after flight mishap
Jeremy Clarkson's partner Lisa Hogan stunned in a barely there bikini snap she shared on Instagram from a beach in Provence, while her beau was stranded in Africa.
"Bracing, but worth it, thank you @leoube recovery elixir!" the 49-year-old Dublin-born beauty exclaimed, referring to her visit to an organic vineyard that has been described as "one of the most beautiful protected sites in Provence".
Chateau Leoube is set amongst four kilometres of stunning coastline, and grapes and olives are cultivated on the land.
Its website invites travellers to embrace the "Provencal art of living" and get involved in activities including paddleboarding, kayaking and beachside film screenings – and Lisa left no doubt that she was living it up in the photo she published from the location.
READ NOW: Strictly star Ellie Simmonds' 'sadness' as she gives verdict on Nikita's partner
Followers inundated the comments section with cheeky remarks such as: "Jeremy clearly batting above his average", as they saw her model her skimpy black bikini.
One fan joked: "I hope you're not 'struggling' like @jeremyclarkson1!"
The Diddly Squat owner, who recently spoke of his debate over whether or not to sell off his apparently less than lucrative farm, has been stranded with James May and Richard Hammond in Botswana.
The trio had been filming and were due to come back yesterday, but a BA flight cancellation put paid to those plans.
Don't miss…
Fern Britton flooded with support as she shares hospital pic after major surgery[HEALTH]
Jeremy Clarkson 'heartbroken' as he considers selling Diddly Squat Farm[INSIGHT]
Les Dennis speaks out on co-star's tragic death hours after Strictly elimination[GRIEF]
We use your sign-up to provide content in ways you've consented to and to improve our understanding of you. This may include adverts from us and 3rd parties based on our understanding. You can unsubscribe at any time. More info
Jeremy joked to his 7.1 million Instagram followers: "BA have messed up our flight home so we are marooned here at a luxury camp in Botswana.
He cheekily added that there were just "40 staff" on-site, quipping: "It's all about survival now!"
Jeremy followed up with a snapshot of a pool this afternoon, writing: "When BA delay a flight by 12 hours, do they not realise how much hardship they inflict on passengers? We are fighting to stay alive here."
Then, sharing a snap of a meerkat looking out over an impressive flame-orange sunset, chuckling: "Thanks to BA's incompetence, this is how I've been forced to endure my evening."
One follower mimicked his wit, commenting: "I hope you guys will survive this nightmare. It makes me sad to see how you people are suffering. Please be aware that all my German brothers and sisters are praying for you… to be out of beer as soon as possible!"
However, a video that the former Top Gear fave posted displayed a very well-stocked fridge containing copious supplies of beer, Coca Cola and even Jeremy's very own Hawkstone Lager.
Jeremy has not clarified when he will be returning, but he seems to be enjoying very luxurious surroundings for the time being.
Meanwhile, Lisa may have been enjoying herself too at the vineyard she's been at, in the picturesque, flower-filled Mediterranean village of Bormes-les-Mimosas.
Source: Read Full Article