Jeremy Clarkson 'heartbroken' as he considers selling Diddly Squat Farm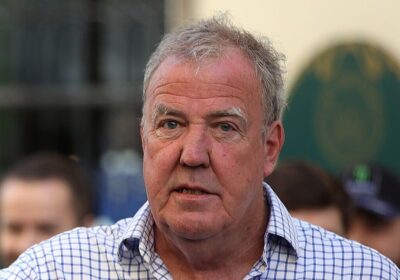 Jeremy Clarkson does 'fracking at the farm shop'
Jeremy Clarkson said he almost pulled the plug on his Chipping Norton farm after a series of struggles, including the weather and poor quality crops, has left him unable to turn over a profit.
The Clarkson's Farm star explained that his barley failed all its tests and cannot be turned into his Hawkstone beer. His pricey lion's mane mushrooms, which could have been sold for £35 per 150g, also failed a food-checking test.
Meanwhile, his wheat failed to grow thanks to a colder summer and plenty of rain and the local abattoir is closing, with the next closest being one and a half hours away.
Writing in his column for The Sunday Times, Jeremy lamented: "I've tried farming conventionally and it didn't work. I've tried diversifying and that hasn't really worked either. And I've tried with sheep and pigs and cows and that has been a bit of a disaster as well.
"So I arrived at a crossroads and was not sure which way to turn.
READ MORE: Clarkson's Farm star Kaleb Cooper hits out after run-in with two 'angry swines'
"I could sell the farm…But I like having it and for very good reasons. There are no death duties on farmland, so my children like me having it too. This means I have to hang on to it, but what then? Do nothing? That would be heartbreaking."
Following a visit from his land agent, whom he calls Cheerful Charlie, Jeremy has decided to hold on to the farm for now as they are stocked up with fertiliser for the next nine months.
After running the farm himself since 2019, he has been plagued by plenty of agricultural disasters, including turning over just £114 profit in his first year. 
We use your sign-up to provide content in ways you've consented to and to improve our understanding of you. This may include adverts from us and 3rd parties based on our understanding. You can unsubscribe at any time. More info
And it seems like his struggles won't end here as he recently made a worrying prediction for the upcoming season.
The Grand Tour star shared an image of a hawthorn tree full of berries to Instagram last month, writing in the caption: "It's #backbritishfarming day. And please do because it's been a b*****d of a harvest. And according to Gerald, all those berries mean we are now in for a harsh winter."
Season one and two of Clarkson's Farm are available to watch on Prime Video.
Source: Read Full Article