Jenson Button's wife Brittny Ward hints at his split as he admits 'selfishness'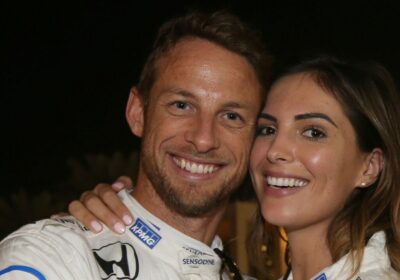 Brittny Ward, 33, has alluded to a difficult break-up between her now-husband Jenson Button, 43, and his ex-wife Jessica Michibata, 38, as the F1 star claims he is "a changed man" since having children.
The British Formula One driver and his model wife got candid in a recent interview with The Times — discussing how they met and why it took Jenson a while to become a "good dad".
According to the mum-of-two, the pair had "chemistry right away", and their relationship was "just so easy" from the beginning.
However, she also hinted that when they met, it was "not the best timing", as Jenson was embroiled in a divorce with his ex-wife, Jessica.
She said: "Jenson was in a divorce situation – not the best timing, but you can't always pick the moment. I think he liked my dry, sarcastic sense of humour."
Read more: Shakira joins Lewis Hamilton for sun-soaked boat trip in Miami
In December 2015, the 43-year-old's agent confirmed that Jenson and his fashion model wife, Jessica, had split after a year of marriage.
In 2018, Ward and Button got engaged after two years of dating. However, their original wedding plans were put on hold in July 2019 as they welcomed their first child, Hendrix, into the world.
A year later, Brittny gave birth to their daughter, Lenny and their wedding was pushed back again.
However, after multiple postponements, the couple finally tied the knot in March 2022.
Don't miss…
Ulrika Jonsson slams 'arrogant' Phillip Schofield and fears for 'his poor wife'[COMMENT]
Strictly's Nadiya's emotional Ukrainian family reunion as daughter meets father[PICTURES]
Amanda Holden wows BGT viewers as she flashes bottom in see-through dress[PICTURES]
Elsewhere in the aforementioned interview, the former racing driver said that the birth of his two children had "changed" him.
He stated: "I'm a changed man since they were born — sometimes we even fight over who gets to wake them. This is such a wonderful time in my life and I'm very grateful for what I have.
"I raced in Formula One for 17 years. As a driver, everything is done for you and I took that for granted. I became a selfish human being but children changed that."
The Playboy model also revealed that her husband was emotional when he first discovered he was becoming a parent.
She said: "Jenson was away when I found out, and I wanted to tell him face-to-face so I waited until he returned home.
We use your sign-up to provide content in ways you've consented to and to improve our understanding of you. This may include adverts from us and 3rd parties based on our understanding. You can unsubscribe at any time. More info
"It was so hard to not say anything on the phone but I thought it was more special to do it in person. I gave him a little gift box with the test in it and he started crying," she continued.
"It was a very sweet moment. It was exactly what you would want the father of your future child to do."
Brittny and Jenson hit it off after meeting through mutual friends in 2016.
However, the model later revealed that she didn't know who Jenson was when they were first introduced.
She told HELLO!: "I had no idea what he did for a living or even what Formula 1 was."
Source: Read Full Article