Jennifer Aniston's four-word warning to Matthew Perry amid his 'secret' battle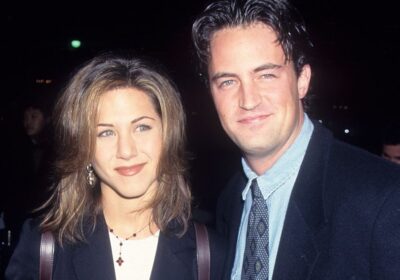 Jennifer Aniston, who played Rachel Green in the popular sitcom 'Friends', once gave a life-saving warning to her co-star Matthew Perry.
Matthew, who was known and adored across the world for his role as Chandler Bing, sadly passed away at his home in Los Angeles on Saturday October 29, aged 54.
The actor had been battling with alcohol addiction during the peak of his fame in the 2000s. Prescription medication was found at his home when he died.
In an interview last year, he revealed that Jennifer, now 54, was the only one from the cast who confronted him about his drinking problem. He remembered her telling him: "We know you're drinking".
In a chat with ABC News' Diane Sawyer, Perry shared: "At the time I should have been the toast of the town, I was in a dark room meeting nothing but drug dealers and completely alone.
"[Jennifer] was the one that reached out the most. He described this confrontation as a "scary moment" and expressed his gratitude towards her for stepping in.
Matthew also spoke about his health struggles due to opioid abuse, which led to a burst colon and a two-week coma. He had a mere 2% chance of survival.
The actor underwent 14 surgeries on his stomach and lived with a colostomy bag for nine months.
Matthew had a tough time with drug and alcohol addiction, which greatly affected his time on Friends. He was once hooked on Vicodin and in 1997 he finished a 28-day detox programme.
In February 2001, he went back to rehab for addiction to Vicodin, methadone, amphetamines, and alcohol. He shared about his struggles in his memoir that was published last year.
In a chat with People magazine last year, Matthew confessed he'd been in rehab 15 times trying to get clean between 1997 and 2011.
He said: "The doctors told my family that I had a two percent chance to live. I was put on a thing called an ECMO machine, which does all the breathing for your heart and your lungs. And that's called a Hail Mary. No one survives that."
Jennifer, on the other hand, told the Today show in 2021 before a Friends reunion: "I didn't understand the level of anxiety and self-torture [that] was put on Matthew Perry, if he didn't get that laugh, and the devastation that he felt."
A post on Friends' X (formerly Twitter) account on Sunday morning read: "We are devastated to learn of Matthew Perry's passing. He was a true gift to us all. Our heart goes out to his family, loved ones, and all of his fans."
* If you're struggling and need to talk, the Samaritans operate a free helpline open 24/7 on 116 123. Alternatively, you can email [email protected] or visit their site to find your local branch.
* This article was crafted with the help of an AI engine, which speeds up OK!'s editorial research and applies it to article templates created by journalists in our newsrooms. An OK! editor reviewed this content before it was published. You can report any errors to [email protected]
Source: Read Full Article