Jeffrey Dean Morgan adopted donkey and emu besties so they can stay together
Happy thanksgiving bird! Hope all y'all have a great day. We here, sending love and best wishes to everyone. Xojd
Jeffrey Dean Morgan lives in upstate New York, with his partner, Hilarie Burton, and their two children: son Augustus, eight, and baby daughter, George, nine months. Hilarie and Jeffrey do charity work for a children's welfare organization in their town of Rhinebeck (here's a cute video of Hilarie with their kids announcing a project) and they live on a farm with animals including chickens, cows and alpacas. They also co-own a sweet shop in Rhinebeck with Paul Rudd called Samuels Sweet Shop! They bought it to save it after the owner passed away unexpectedly in 2014. I don't know how involved Hilarie is in the day-to-day operations but she does go there frequently and they just held a teddy bear beauty contest.
Their life sounds straight out of a Hallmark movie and here's another story to add to that. Jeffrey adopted two animals in need of a home, a donkey and an emu. The donkey is a male named Jack and the emu is a female named Diane. They're a bonded pair who often cuddle together and did not want to be separated at all. They were abandoned by their previous owner and were saved by a North Carolina rescue group called Waterfowl Rescue. Their story went viral, Jeffrey and Hilarie applied to adopt them, and they were approved because they have a great farm. I love this story!
A North Carolina animal rescue group says that thanks to "The Walking Dead" actor Jeffrey Dean Morgan, a donkey and an emu who've bonded with each other can stay together.

The Charlotte Observer reports Carolina Waterfowl Rescue Founder Jennifer Gordon says Morgan is adopting them Tuesday. Morgan plays the villainous Negan on the TV zombie thriller.

Jack and Diane were rescued from Kershaw, South Carolina, when their owner vanished. Gordon says they cuddle and sleep together, but cried and became frantic when they were separated.

Gordon says a post about the complexities of adopting them out together sparked more than 2,000 inquiries, including Morgan's. She says Morgan was the best choice since he has resources to care for the pair and they can roam free on his Hudson Valley, New York, farm.
[From Huffington Post]
Here's a video of Jack and Diane in their new home. It looks so nice there! You can see more videos and photos of these two before their adoption on Waterfowl Rescue's Instagram. I bet that Jeffrey and Hilarie will continue to Instagram video and photos of them too. I'm following both of them now.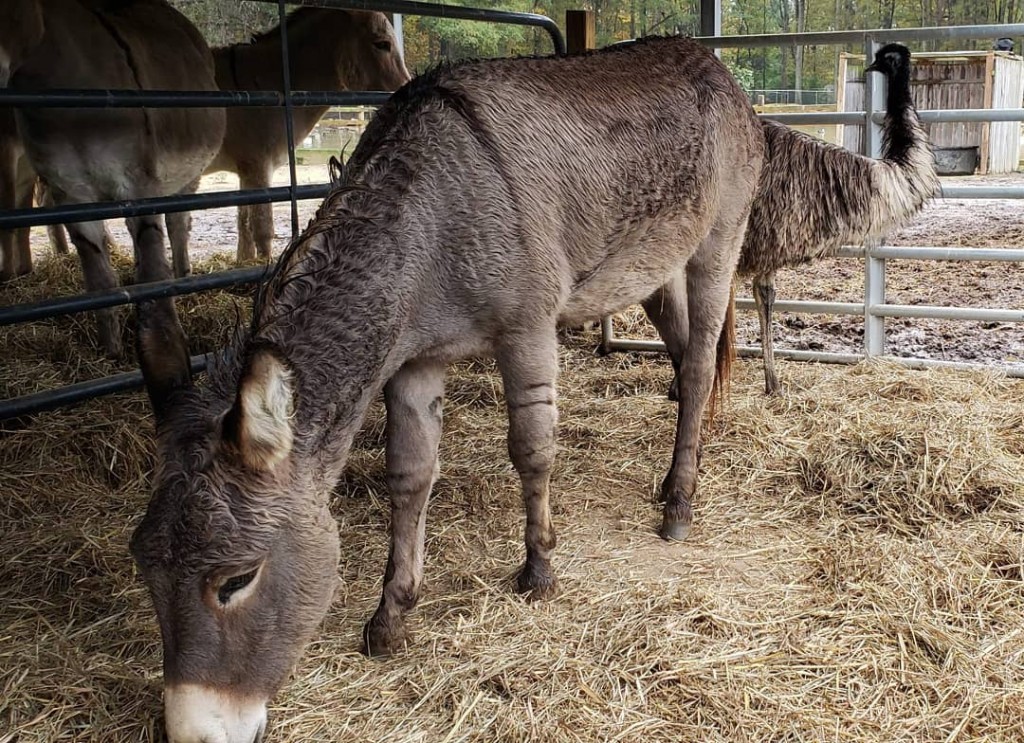 Jack and Diane in their new home.
#jackanddiane were safely delivered to their new home, and of course we took a moment to get some pics with the man himself! Thank you so much to @jeffreydeanmorgan for giving Jack and Diane their beautiful new home, and for being such a cool laid back person! ♥️ (Ps — peep his Carolina Waterfowl hat!! ?)
Four years ago this weekend, my friends @andyostroy @phoebejonasjewelry @julesyrudd #paulrudd @wilburtraver joined @jeffreydeanmorgan and I in our new adventure of preserving the magic of @samuelssweetshop in our little town of Rhinebeck NY. We signed our paperwork the night before Sinterklaas Festival and John and I celebrated right after with a much earned bottle of champagne. Today, we hosted the Teddy Bear Beauty Pageant at the shop – the passion project of our late founder Ira Gutner. I miss our friend, but I'm so glad he brought us all together. @sinterklaashudsonvalley will always hold a special place in my heart as our anniversary. Sending love to my friends and gratitude to our neighbors for allowing us to carry on in Ira's memory. #holidaymagic
Source: Read Full Article