Jasmine Harman: A Place In The Sun presenter details message from fan with foot fetish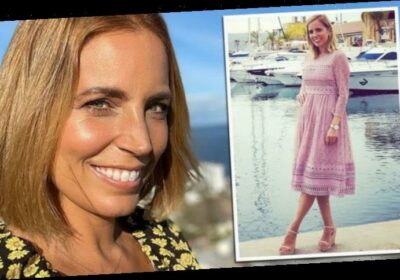 A Place in the Sun: Jasmine cries as couple accept offer
When you subscribe we will use the information you provide to send you these newsletters.Sometimes they'll include recommendations for other related newsletters or services we offer.Our Privacy Notice explains more about how we use your data, and your rights.You can unsubscribe at any time.
A Place In The Sun presenter Jasmine Harman has opened up about the strangest messages she has received from fans. The Channel 4 star said that one person had asked to see her get "gunged" while wearing a pair of jeans, while another wanted to see her feet.
According to the candid presenter, it wasn't a simple request for a snap of her tootsies, the social media user wanted to see "crusty" and "calloused" feet.
Jasmine was quick to point out that she doesn't not have those issues.
Another strange request was even more specific.
One Instagram user wanted to see her get covered in slime, but only if she was wearing jeans for some unknown reason.
Jasmine, who has hosted the long-running show for 17 years this week, made her comments during a new interview.
"There is one person on Instagram who constantly asks me if I'll get gunged in jeans," she told The Sun.
"It has to be in jeans, I don't know why.
"That's pretty harmless," the 45-year-old went on to say.
"There's another who has said, 'Please let me see your crusty, calloused feet'.
"Luckily my feet aren't that crusty," she amusingly added.
The mum-of-two made her remarks in the presence of her co-stars, who also spoke about some of the unwanted messages they have received.
She was joined by her fellow A Place In The Sun presenters Laura Hamilton and Scarlette Douglas.
DON'T MISS…
Louise Minchin bids farewell to colleague 'who always cheered me up' [INSIGHT]
Dick Strawbridge reacts to worried Escape To The Chateau viewer [UPDATE]
Tom Jones' mistress Mary Wilson 'wouldn't have put up with affairs' [INSIGHT]
The latter admitted that she often receives "creepy" comments online.
The 33-year-old, who joined the cast of the show in 2015, also revealed that she gets sent explicit pictures from men.
The presenter's been sent at least three or four over the course of her time on the small screen.
Jasmine, who is married to cameraman Jon Boast, went on to say that her husband was not "particularly threatened" by her fan mail.
The couple, who tied the knot in 2009, met while working on the series.
They are parents to Joy, seven, and Albion, five.
A Place in the Sun continues today at 3pm on Channel 4.
Source: Read Full Article