Jackass' Steve-O 'beats himself up' after split from Stacey Solomon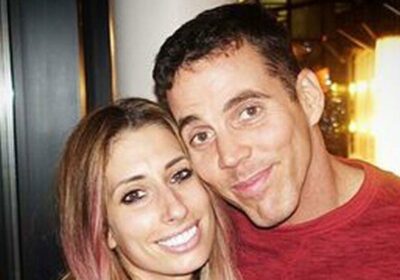 Steve-O blowing up the Seaworld dolphin
We use your sign-up to provide content in ways you've consented to and to improve our understanding of you. This may include adverts from us and 3rd parties based on our understanding. You can unsubscribe at any time. More info
Steve-O, who is best known for appearing in the Jackass franchise, dated Loose Women panellist Stacey Solomon for six months. But the reality TV star has since spoken out about their romance coming to a swift end after he ghosted the TV personality.
The stunt performer, 48, enjoyed a short-lived relationship with Stacey, now 33, in 2015.
They began dating after meeting on The Jump that year, with Steve-O – whose real name is Stephen Glover – and Stacey having been contestants on the Channel 4 show.
The relationship ended a few months later and he has now addressed their brief romance in his book, which is titled A Hard Kick In The Nuts.
In excerpts from the book, as reported by The Sun, he spoke about his past relationship with Stacey, saying that he had been "smitten" but abruptly broke things off with her.
He wrote: "I lavished her with attention, I got what I wanted and then I broke it off. I'd become not only part of her life [but also] her kids' lives too. And then – poof – I was gone".
The on-screen star had previously shared he had a tendency to disappear in relationships and would cut ties with partners unexpectedly.
He explained: "I'd meet some woman, pour on the charm to convince her I really cared about her (which I invariably thought I did) sleep with her a few times, then lose interest and ghost".
In another excerpt in the book, as reported by the same outlet, he explained about the break-up: "To this day, I still beat myself up about the way it went down".
Steve-O added that he believes Stacey bears "no ill toward [him]" and said that she seems to be a "happy person" who doesn't hold significant grudges, even if "justified" to do so.
The Loose Women panellist has since moved on from that relationship as Stacey recently tied the knot with her husband Joe Swash.
Taking to Instagram, she penned: "Forever Me and My Husband. I don't think I will ever get used to saying that. It all feels like a dream.
"The most special day that we didn't ever want to end. We love you all and the special community we've built on here so so much and couldn't wait to share these moments with you."
DON'T MISS…
Gabby Logan breaks down over husband's cancer as she gives update[LATEST]
Strictly's Katya Jones shares tears as she bids 'sad' farewell[STRICTLY]
Kim Kardashian in blunder as she attends birthday bash wearing costume[HALLOWEEN]
The mum-of-four has since addressed whether she would be happy to take part in Strictly Come Dancing.
Speaking to Metro, Solomon said she would make "an absolutely terrible dancer" but would "never say never" to the chance at performing on the show that she is "obsessed" with.
"I don't know why but I have no rhythm when it comes to movement," she said.
"I have rhythm with singing or listening to music but when it comes to moving my feet I am left-footed, I have two left feet!"
"But I am obsessed with it, I'm obsessed with the costumes. I would love to learn a new skill like that. I love learning anything, to be honest."
She added: "But I would be terrible and I doubt they would want me there. I'd be one of those people who would go out in week one and they'd be like 'well that was a waste of time!'"
Stacey has had previous experience on reality shows including The X Factor and I'm A Celebrity… Get Me Out Of Here!
A Hard Kick in the Nuts, by Steve-O, is available now.
Source: Read Full Article