ITV's Ruth Langsford left feeling 'cheated' after family tragedy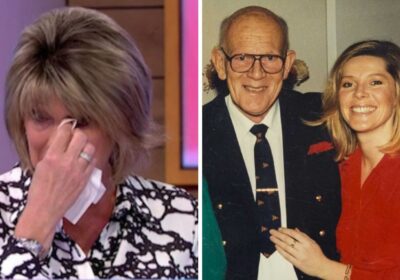 Ruth Langsford cries as she discusses her father's Alzheimer's
Ruth Langsford has admitted that she felt "cheated" that her son Jack never got to know his grandfather before he passed away in 2012.
The Loose Women panellist opened up during an episode on the How To Be 60 podcast with Kaye Adams and Karen MacKenzie.
Ruth's father Dennis died aged 84 from complications caused by dementia and was cared for by her mother, Joan, for the last 13 years of his life.
Speaking about her heartache, Ruth shared in an interview that she wished her son got to know his "wonderful" grandad.
"It took me a long time with my Dad to accept it," she began.
READ MORE: Richard Madeley shares 'cure' to rows with wife Judy while working on live TV[LATEST]
"I was young and didn't want it to be happening, and Jack was young. I felt really cheated that Jack didn't know the wonderful grandad that my Dad would've been to him."
She continued: "I felt cheated by that. But, then I think I was very lucky to have had all that time with him.
"And he wasn't in pain. He still had a nice life."
Tragically, Dennis had forgotten about both Ruth and Joan by the time he passed away.
Since her father died, Ruth has raised awareness of the disease by taking part in numerous challenges.
A week ago, she took part in the Alzheimer's Society Memory Walk for the 13th year in a row and is an ambassador of the charity.
Don't miss…
Strictly pros slammed by former star James Jordan for 'off-putting' habit dur…[OPINION]
BBC presenter left red-faced over Rugby World Cup gaffe before Ireland's win[WATCH ]
Strictly's Shirley Ballas is in 'a much better place' after being trolled online[LATEST]
We use your sign-up to provide content in ways you've consented to and to improve our understanding of you. This may include adverts from us and 3rd parties based on our understanding. You can unsubscribe at any time. More info
Uploading a photo to Instagram, Ruth penned: "MEMORY WALK TIME! Delighted to be starting the annual Memory Walk again for @alzheimerssoc this Sunday 1st October @painshill Park, Cobham, Surrey.
"This is my 13th year walking in memory of my darling Dad.
"It's a wonderful event – a day of celebration, remembrance and fundraising of course. If you'd like to join me & Maggie, or find a walk near you, sign up at: https://bit.ly/memwalkrl."
You can listen to Ruth's full interview on the podcast How To Be 60 here.
Loose Women airs weekdays at 12.30pm on ITV.
Source: Read Full Article