Inauguration Poet Amanda Gorman Tailed Outside Her Building for Looking 'Suspicious'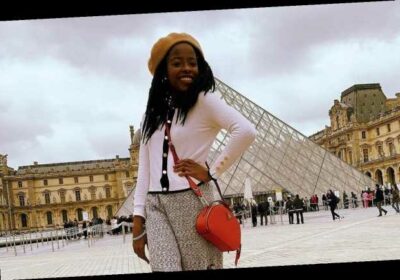 America's first Youth Poet Laureate opens up about 'the reality of black girls' as she reveals being racially profiled outside her building for 'looking suspicious.'
AceShowbiz -Inauguration poet Amanda Gorman has revealed she was racially profiled by a security guard outside her building on Friday night (05Mar21).
The 22-year-old, who became a household name after performing at U.S. president Joe Biden's inauguration in January, took to Twitter to tell her fans, "A security guard tailed me on my walk home tonight. He demanded if I lived there because 'you look suspicious.' I showed my keys & buzzed myself into my building. He left, no apology. This is the reality of black girls: One day you're called an icon, the next day, a threat."
She then wrote, "In a sense, he was right. I AM A THREAT: a threat to injustice, to inequality, to ignorance. Anyone who speaks the truth and walks with hope is an obvious and fatal danger to the powers that be."
State Senator Erika Geiss from Michigan was among those responding to Amanda's tweet, writing, "Walk tall & strong. You are not alone."
A number of celebrities also flooded her comment section to offer love and support.
See also…
Roger Daltrey Says Overanalyzing His 'Chemistry' With Pete Townshend Could Destroy Their Bond
Gwyneth Paltrow Says Husband Lost Sense of Taste and Smell for 9 Months Due to Covid-19
Abigail Spencer Defends Meghan Markle Amid Bullying Allegations
Rudy Giuliani's Daughter Credits Threesome for Making Her a 'Better Person'
Lily Collins wrote, "Keep being the constant light you are."
Angela Kinsey penned, "So very sorry! I'd love to give him all my sass and few choice expletives. You are a bright light! Continue to shine."
AnnaSophia Robb commented, "Who is this mf?! I wanna track him dowwwwwn!"
Sophia Bush exclaimed, "Infuriating. I'm so sorry this happened to you. Wrapping you in love. Keep shining, sweet friend."
Mike Colter consoled her, "keep your head up sister."
Naomi Campbell posted, "Yes sad to say, you are changing the narrative."
Source: Read Full Article