'I wish!' Monty Don laments what BBC series missed out as he makes television return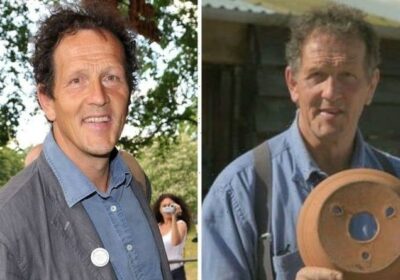 Gardeners' World: Monty Don advises on house plant care
We use your sign-up to provide content in ways you've consented to and to improve our understanding of you. This may include adverts from us and 3rd parties based on our understanding. You can unsubscribe at any time. More info
Monty Don, who has fronted several TV programmes for the broadcaster over the years, is making his return on January 7 as he continues exploring some of the most stunning gardens in Europe. Similar to his previous shows, Monty Don's Adriatic Garden only consists of three episodes.
Chance would be a very fine thing

Monty Don
And on Monday, when a fan suggested a few other places that the 66-year-old should have visited during filming, the latter did not hesitate to respond to the message.
Taking to Twitter to gush about his new show, Monty wrote to his 245,000 followers: "2022 is already getting better with 'Monty Don's Adriatic gardens' starting this Friday 7th Jan at 8 pm on BBC2.
He continued: "Beginning in Venice, prog 1 before moving down the Adriatic coast through Croatia, Corfu, Mainland Greece and ending in a very personal garden on the Island of Hydra."
In the comment section, Twitter user @rcssmedasmith responded, saying: "You could have stuck to the Adriatic and then done one around the Aegean.
"I'm sure places like Thessaloniki, Athens, Crete, Rhodes, Izmir etc + Hydra hold plenty of gardens."
Monty replied: "Ah, I wish! Chance would be a very fine thing."
In October, the TV presenter was overjoyed after show bosses at the BBC commissioned three Christmas specials of Gardener's World.
The news came just one month after another fan questioned the Monty on one of his other shows, Big Dreams Small Spaces, which ran for three seasons from 2014 to 2017.
As there had never been an official word indicating that the show had been cancelled, @TMatrix2000 directly tweeted Monty to get to the bottom of things, quizzing the latter on whether there'd be a chance viewers could expect another season down the line.
The Twitter user penned: "Stumbled upon Big Dreams, Small Spaces on TogetherTV and really enjoyed it.
"Lovely to see @TheMontyDon interact with the public on their projects, you get a different angle of insight to Gardeners World, and get to know Monty as a person better, shame only seems to be 2 series."
Monty's response heavily implied that the series was not coming back, saying he was "very happy" with all the shows he had lined up with producers.
Still, that didn't appear to include the fourth season of Big Dreams, Small Spaces.
The Chelsea Flower Show star has helmed several shows on the Beeb, including Monty Don's American Gardens, Monty Don's Japanese Gardens and Monty Don's Paradise Gardens, all of which have consisted of either two to three episodes.
Monty has shared a healthy working relationship with the BBC for two decades after taking over Alan Titchmarsh as the lead presenter of Gardener's World in 2003.
His only absence from the network came in 2008 when he was forced to step down from his position due to issues with his health.
He would return in 2011.
Speaking of his excitement upon hearing the broadcaster had welcomed three specials to its TV scheduling during the Christmas holidays, Monty couldn't help but gush about it on his social media platform.
The three specials, which aired last month, had clearly left the horticulturist in a splendid mood.
"As it grew dark and the wind whipped the leaves from the trees we finished filming the third of three programmes filled with all-new materials celebrating the season that will go out in December," he tweeted in October.
"What a treat in the darkest days. Thanks to all of your hard work."
Source: Read Full Article