'I must apologise' John Cleese after Fawlty Towers news sparks upset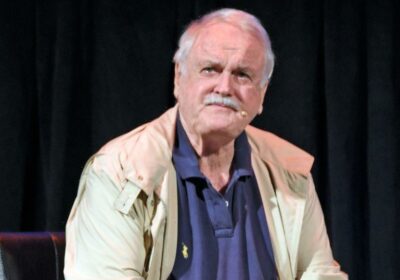 We use your sign-up to provide content in ways you've consented to and to improve our understanding of you. This may include adverts from us and 3rd parties based on our understanding. You can unsubscribe at any time. More info
The Basil Fawlty actor, 83, announced earlier this month that he would be working to bring the beloved, yet controversial, series back. However, the criticisms and complaints the announcement garnered has seemingly pushed John to release a statement.
This morning, barely two weeks after revealing he was starting work on the revival with his daughter, Camilla, 39, John made a surprising announcement post on Twitter.
The actor declared: "I must apologise.
"I had no idea that the idea of writing a new sitcom with my daughter would cause so much anger and distress
"I truly meant no harm. Naively, I thought it might be fun but I feel terrible about having released this tide of negative emotion.
"Please forgive me."
While some declared that the actor was simply "joking" or showing off his "chainsaw sarcasm", others feared what the apology may mean the series might not happen.
Some fans sent hopeful words of encouragement, telling the star to "push ahead" and "ignore the utter nonsense. Britain needs some Cleese back in their lives".
However, many doubled down on their critiques and concerns, with one writing: "Not angry. Fan of yours, your daughter's a great joke writer.
"Just wondering if we really need an addition to the 12 most perfect sitcom episodes ever written."
Another added: "FT is a classic, possibly my favourite TV comedy.
"A sequel? I don't know, it would be a different cast for starters! Most comedy on TV nowadays just isn't funny because TV companies fear they'll upset someone!"
Others completely lambasted the actor for apologising saying: "Imagine; you spend your entire Twitter life being wilfully controversial and provocative.
"Then, when it matters to you and you just want pliant support, you get some push back so you throw a conspicuous pity-party?"
The British sitcom, which followed a husband and wife duo as they managed their fictional Torquay hotel, is set to return 48 years after it first started.
This time round, however, the series will reportedly following hotel owner Basil, played by John, and his daughter, played by Camilla, as he attempts to navigate the modern world.
Shortly after the announcement reached Twitter, the social media platform exploded with public reaction.
Piers Morgan was among the critics as the journalist simply retweeted the announcement saying: "No no no. This is a terrible idea."
John first spoke out against the criticisms last week, sharing some of his worries: "I worry that so many of the British critics are saying that the FT sequel is such an awful idea because Rob Reiner might start getting cold feet, and cancel the whole thing.
"He's fairly new to comedy and doesn't have that fingertip sensitivity to it that British critics do."
Despite the critics, countless fans continue to flock to John's page ushering their support for the spinoff, with many promising to be avid viewers.
Source: Read Full Article