How The Queen Really Feels About Meghan And Harry's Oprah Interview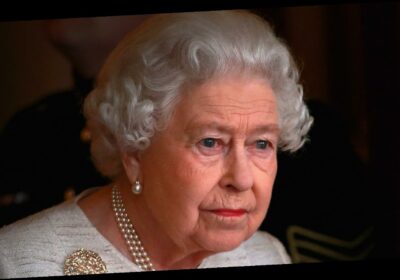 It seems that Queen Elizabeth II is none too happy with her grandson thanks to an upcoming TV special. Prince Harry and Meghan Markle are set to divulge some royal secrets in a sit-down interview with Oprah Winfrey on March 7, 2021. This comes after Buckingham Palace confirmed (via Us Weekly) in February 2021 that the couple "will not be returning as working members of the royal family."
Meghan and Harry have been the center of royal family drama for some time now, which seemed to have escalated in January 2020 when they decided to step back from their duties as senior royals. Two months later, the couple began a trial period where they would decide if they wanted to return as working royals. During this time, Meghan and Harry briefly moved to Canada with their son Archie, before settling down in Meghan's home state of California. In February 2021, the couple announced that they're expecting their second baby.
Since the twosome is no longer officially part of the Crown, it appears that the Sussexes are ready to speak their truths. In a preview clip of the interview Meghan says, "I don't know how they could expect that after all of this time, we would still just be silent if there is an active role that The Firm is playing in perpetuating falsehoods about us." Oprah can also be heard saying to the couple, "You've said some pretty shocking things here." It seems that the Queen is also aware of what the interview could reveal and is worried.
The queen is reportedly 'furious'
If there's one person who's not excited for Prince Harry and Meghan Markle's tell-all interview, it's probably Queen Elizabeth. According to Us Weekly, a source revealed that she and Prince William are "furious" about what the Sussexes could reveal about their family. The source explained, "They feel that by sharing [Harry and Meghan's] side of the story, the entire royal family will be painted in an unfair way." 
Queen Elizabeth II will be making her own TV appearance on March 7, 2021 ahead of Harry and Meghan's special, but it's not as petty as you may think. In fact, it has nothing to do with the Sussexes. People reports that the royals will share a prerecorded message for BBC's special on the Commonwealth Day service.
Yet, some still think the queen is pulling out all the stops. The Times recently released a report claiming Meghan mistreated some of her palace staff, which the couple called a "smear campaign" (via People). This led to Buckingham Palace launching an investigation, saying in a statement that the palace "does not and will not tolerate bullying or harassment in the workplace," according to the Daily Mail. Of course, Meghan and Harry appear to be suspicious of the timing. A source told Us Weekly, "The assumption from friends close to Meghan and Harry is that the palace has released this statement to strike back at Harry and Meghan for doing the [tell-all] interview."
Source: Read Full Article