How can we charge 33million electric cars with only 44,000 chargers?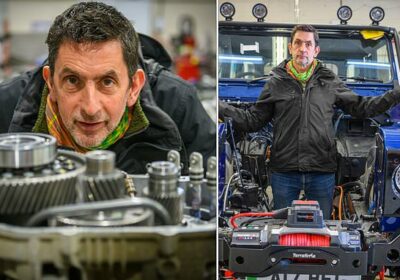 CHRISTOPHER STEVENS reviews last night's TV: How can we charge 33million electric cars with only 44,000 chargers?
Electric Cars: What They Really Mean For You 
Rating:
Retro Electro Workshop 
Rating:
My mind is changed. At the start of an hour-long promo extolling the wonders of battery-powered vehicles, I admit I was slightly sceptical.
It seemed questionable that Britain could convert to electric transport and ban the sale of petrol cars by 2030.
There's no lingering doubt now. The more desperate the hard sell became, in Electric Cars: What They Really Mean For You (BBC1), the more painfully obvious it was that the scheme is doomed.
One of two things seems certain: the government will pull the plug on its impossible deadline, or the era of mass travel in private cars will end.
Every argument the presenters served up only emphasised the technology isn't ready, the infrastructure doesn't exist and the green propaganda is bogus.
Pictured: Presenter Justin Rowlatt with electric engine on Electric Cars: What They Really Mean For You 
Journalist Mr Rowlatt is the BBC's current Climate Editor 
Presenter Michelle Ackerley promised us that there are 44,000 public chargers around the country. 'That sounds like a lot,' she added.
No, it doesn't. There are more than 33 million private cars in the UK. If we all go electric, that's one charger for every 750 vehicles. You'll be queuing for a week every time you need to refresh the battery.
Michelle pulled onto an all-electric forecourt outside Bishop's Stortford in Hertfordshire, with about 20 state-of-the-art zappers. 'This is charging heaven,' she announced, before plugging her vehicle in for 'as little as 40 minutes'.
ROYAL PROTEST OF THE NIGHT: 
Kate Bryan wasn't taken with the 1969 canvas by artist Pietro Annigoni of the late Queen in red robes, on Stories From The National Portrait Gallery (Sky Arts). 
When it was unveiled, one loyal subject hated it so much, she threw a Bible at it. What an odd thing to do. 
She sauntered into the adjacent service station for a coffee — all right if you're on your own and in no hurry. Now try it with three fractious children, slogging across country on a wet Friday in August, with thousands of other holidaymakers, some on their second or third recharge of the day. See how heavenly that is.
To beat the queues, Michelle produced an 'electric lance' from the boot. This device, the size of a pneumatic drill, slots into a charging point like a water hydrant in the pavement. After a struggle, she managed to get it working, for an overnight charge.
Call me overcautious, but I don't fancy plugging a metal pole into the electricity mains, in winter, in the dark, during a rainstorm.
Co-presenter Justin Rowlatt, the BBC's Climate Editor, was trying to entice us with shiny gimmicks. He went for a spin in a converted electric VW Beetle, buzzing up a Welsh mountain road like the Lovebug on amphetamines. The acceleration far outstripped anything possible with the Beetle's 40-horsepower petrol engine. But Justin carefully didn't mention how far it went before charge-ups, or how much the conversion cost. He just talked a lot about 'meeting challenges' and dismissed any objections as 'perceptions'.
Pictured: Matt Marchant (left) and Rob Howard (right) in Matt's workshop 
There was no attempt to explain how HGVs or heavy construction vehicles can ever run on electricity, and after its zippy start in the electro-Herbie, the show ran out of energy. During a deadly dull interview with a Whitehall eco-spokesman, it slowed to a halt. There's another episode next week — I hope that gives them enough time to charge up again.
The problems of electric transport have been glaringly obvious for 40 years, since Sir Clive Sinclair launched his ridiculous battery-powered tricycle, the C5.
It may have looked like a potential deathtrap but it has nostalgia appeal today, as proved on Retro Electro Workshop (Yesterday). A broken C5 was one of the clapped-out devices coaxed back to life in this soothingly watchable show.
Chief technician Matt is the kind of repairman who wears two pairs of glasses on his nose. He carefully restored the circuitboard from a Radio Caroline jingle machine, replacing its components one at a time with tweezers until its speakers crackled back into life. Fabutastical, pop fans.
Delighted owners with their Pinocchio puppet in Episode 1 of Retro Electro Workshop 
Source: Read Full Article