Helen Skelton reacts as On The Farm viewer hits out at 'outdated and wrong' on-air remarks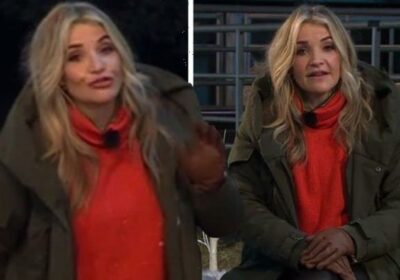 Winter on the Farm: Helen jokes about chopping wood
We use your sign-up to provide content in ways you've consented to and to improve our understanding of you. This may include adverts from us and 3rd parties based on our understanding. You can unsubscribe at any time. More info
Helen Skelton, 38, came under fire earlier this month for some tongue-in-cheek comments she made in an episode of Winter on the Farm. Her remarks were branded "sexist" by one disgruntled Twitter user but others disagreed, believing the fan-favourite presenter did no wrong.
It is a job for an expert like Jonathon… or an adult, a man adult

Helen Skelton
It comes after she, her co-star Jules Hudson, along with farmers Rob and Dave, were taught how to expertly chop wood by Yorkshire Dales bush craftsman Jonathon.
With a choice of three axes to choose from, Helen wondered what their different qualities were.
"Now Jonathon, you've got a selection of axes you're going to talk the boys through, showing them some pointers on how they should chop wood," she began.
The blonde bombshell, who is heavily pregnant, then admitted she "wasn't allowed" to get involved – for obvious reasons.
Holding her hands up as she backed away, she joked: "So, you guys do the manly stuff.
"I'm going to step back here and do some knitting or fold some washing, or something like that!"
The entire outside studio laughed as Jonathon went through his top tips for carrying out the outdoor experience safely and successfully.
Watching in awe, Helen pointed out that she appeared to be "drowning in testosterone" as she remained the only female on-screen.
With a huge grin on her face, she chuckled: "A moment ago I was drowning in mulled wine fumes, now I'm drowning in testosterone!
"We men, we make fire, we chop wood!" she joked, mimicking the limited words cavemen used in the Paleolithic Era.
But she quickly sent a warning to viewers watching at home, stating: "I know we have a lot of younger viewers so whatever you do, do NOT try anything like this at home!"
"It is a job for an expert like Jonathon… or an adult, a man adult," she winked, as the camera panned to the three holding the axes.
DON'T MISS..
Brian May issues stark warning to all after new Covid health update [HEALTH NEWS]
Leonardo DiCaprio DIVED into frozen lake to save his two dogs [LATEST]
Samuel West issues update on mum Prunella Scales amid dementia battle [FAMILY NEWS]
But it seems her comments didn't go down with one viewer, who believed she was using rather derogatory language.
Taking to Twitter after the show, user Lizzy Horn posted her thoughts, telling Helen to "sort it out".
She wrote: "#liveonthefarm @channel5_tv @HelenSkelton please sort it out… 'This is a job for adult men.' Women do the laundry?"
"I'm a woman, and I learnt how to use axes and knives at scouts and have been doing so since I was a 10yr old girl. #sexism is SO outdated and wrong #winteronthefarm."
Responding to a now deleted reply from an unknown user, Lizzy then explained her views: "Some of it sounded tongue in cheek but the bit about younger viewers not doing it and it being a job for adult men just sounded a bit too, y'know…?
"Generally I love your shows which is why I was taken aback," she added.
But a fan rushed to Helen's defence, as they penned: "These women getting their knickers in a twist don't speak for all of us! I thought your comments were hilarious!
"I applaud your relaxed sense of humour. Thankyou."
Helen replied with three laughing faces, appearing to shrug off the minor backlash.
Source: Read Full Article