Has BTS Ever Met Coldplay? | Showbiz Cheat Sheet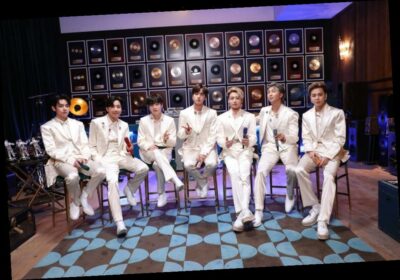 The BTS members may be physically distant from fans. However, they're still performing recently-released songs, like "Telepathy," live, as well as all new covers. For their MTV Unplugged segment, these K-pop artists even did a cover of Coldplay's "Fix You."
Has BTS ever met Coldplay? Here's what we know about these award-winning artists and their relationship with one another.
BTS performed 'Fix You' on their 'MTV Unplugged'
It was a "dynamite" night on MTV, according to BTS fans and the promotional video clip.
A few weeks following the release of Be (Essential Edition,) this K-pop group performed original songs live during their highly anticipated MTV Unplugged segment. 
Along with songs like "Dynamite" and "Life Goes On," this K-pop group surprised fans with a cover of a Coldplay song.
That was the 2005 release titled "Fix You," an appropriate song for BTS and their ARMY.  When news broke of the cover, fans took to social media, sharing their love for the boy band.
Has BTS ever met Coldplay
Although BTS frequently traveled to perform pre-pandemic, it's unclear if the K-pop artists ever met Coldplay in person. However, since their debut, BTS has met several artists they admire.
That includes the rapper Drake, the singer Taylor Swift, and the EGOT winner John Legend. They even collaborated with some award-winning performers for albums like Map of the Soul: 7.
However, it's unclear if they will ever collaborate with Coldplay. In the past, Coldplay collaborated with Beyoncé for their song "Hymn For The Weekend" and the Chainsmokers for "Something Just Like This."
The BTS members are fans of Coldplay
The BTS members aren't shy regarding their love for this band. During one live stream with fans from 2017, RM answered a question, stating, "Do you like Coldplay? I like Coldplay, Warmplay, Hotplay, Coolplay…"
In conjunction with their 2020 release, Be (Deluxe Edition,) each of the members shared some of their favorite songs, both BTS originals and songs by other groups. Jin added "Fix You" to his playlist titled "Jin's Favorite Tracks," which currently has over seven thousand followers.
During a press conference prior to BTS' performance at Wembley Stadium, V shared that he wanted to collaborate with Coldplay. (The group went on to work with artists like Sia, Halsey, and Charli XCX.
"For a long time, I have loved Coldplay," V said, according to a fan translation. "If there's an opportunity, I would like to collaborate with Coldplay."
The "Life Goes On" music video is now available on YouTube. Music by BTS, including their recently released album, Map of the Soul: 7, is available for streaming on Spotify, Apple Music, and most major platforms.
Source: Read Full Article