Happy Valley fans left astounded by Sarah Lancashire throwback snap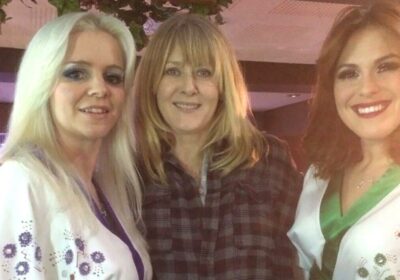 Happy Valley: Sarah Lancashire stars in season three trailer
We use your sign-up to provide content in ways you've consented to and to improve our understanding of you. This may include adverts from us and 3rd parties based on our understanding. You can unsubscribe at any time. More info
Happy Valley viewers were all saying the same thing about a throwback picture of series lead Sarah Lancashire, 58. The actress, who plays Sergeant Catherine Cawood in the gripping police drama, sparked speculation after Sunday night's episode.
Following the episode, a fan account gave fans a reminder of the time the actress met ABBA tribute band Swede Dreamz.
In series two, there was a memorable scene where Catherine joined her colleagues Ann (Charlie Murphy) and Joyce (Ishia Bennison) to see the band after Ann joined the police following her awful kidnap and rape ordeal.
Sharing photos of Catherine at the concert, Sarah's fan account @QueenLancashire tweeted: "Throwback to when ABBA met Catherine (Sarah)."
After looking at the photo on Twitter, Antoinette commented: "That first picture looks like Sarah dressed as Catherine, not Catherine, it's MAD how her physicality creates the character."
The fan page replied: "1000% Annie! Never thought of this. It's so obviously Sarah in Catherine's clothes.
"Probably the great big beam on her face too. (We rarely get that from our Cath these days haha)."
Betty responded: "I hadn't looked at the comments yet and thought exactly that, she's just so bl**dy good!!"
The Swede Dreamz ABBA Tribute Band also shared a sweet message, writing: "We had a fab time recording ABBA scenes with Sarah Lancashire. Such a lovely lady (as were all the cast)."
BBC show bosses have been working hard to keep the hugely anticipated finale of Happy Valley under wraps.
It was recently revealed that they have even gone to the trouble of filming extra scenes to ensure the ending will not be spoiled for fans.
Happy Valley is a British crime drama that began back in April, 2014 on BBC One.
While the second series came out two years later in 2016, the third instalment has aired this January after a seven-year break.
Sir Brian May inundated with support after death of co-star [INSIGHT]
Pete Davidson 'removes tattoos dedicated to Kim Kardashian' [UPDATE]
Carol Vorderman smoulders in slow-mo video as she highlights curves [PIC]
Back in 2015, the cast, which also includes Siobhan Finneran, picked up the BAFTA Award for Best Drama Series.
Written and created by Sally Wainwright, the series takes place in the Calder Valley, West Yorkshire.
The plot of the first series centres around police sergeant Catherine Cawood, who is still coming to terms with the suicide of her teenage daughter, Becky, eight years after the incident.
Things take a dark turn when Becky's rapist Tommy Lee Royce (James Norton) is let out of prison and becomes involved with the kidnapping of new victim Ann Gallagher (Charlie Murphy), but Catherine is onto him.
The latest season is set seven years later, with Catherine coming close to retirement age, but it isn't long before she is forced to face old demons once more.
Happy Valley returns this Sunday at 9pm on BBC One.
Source: Read Full Article