Gwen and Blake tied the knot, more celeb news from July 2021 ICYMI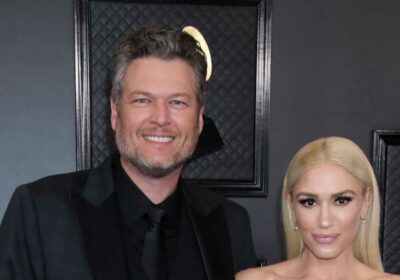 Mr. and Mrs.
It finally happened! On July 5, Gwen Stefani confirmed that she and Blake Shelton had gotten married over the holiday weekend in front of a small group of friends and family. The couple said "I do" on July 3 at his ranch in Oklahoma. "Dreams do come true !!!" Gwen captioned a series of stunning wedding images on Instagram. The No Doubt singer donned a Vera Wang gown for the nuptials (and another for the reception) and wore a veil embroidered with her and Blake's first names as well as the names of her three sons from her first marriage. Blake wore his trademark blue jeans. Rather than say his vows, Blake performed them: He wrote a song for his bride and sang it during the ceremony, the couple's officiant, "The Voice" host Carson Daly, revealed.
RELATED: Celeb couples who got married in 2021
Britney's back!
The wheels are in motion for Britney Spears to regain her freedom. On July 14, a judge allowed the pop star to hire her own lawyer in her conservatorship battle, which is a big win for Britney. Mega-lawyer Mathew S. Rosengart now represents the singer as she attempts to end her 13-year conservatorship, which has long been led by her father, Jamie Spears. Britney joined the hearing via phone. The 13-year albatross, she said, "is allowing my dad to ruin my life." On the call, she said she is forcibly medicated and forced to work against her will. She also alleged that her father and others involved in the conservatorship have threatened her. "I'm here to get rid of my dad and charge him with conservatorship abuse," she said. Jamie is in charge of the pop star's business affairs and her estate, whereas Jodi Montgomery is now her personal conservator. Brit said she's fine with Jodi remaining in that position right now but wants Jamie out. After the hearing, Britney posted an Instagram video in which she did cartwheels. She also — for the first time — posted the hashtag #FreeBritney. Britney also shared things on Instagram in July in which she appeared to shade her sister, actress Jamie Lynn Spears, and said she's not planning to return to the stage anytime soon.
RELATED: Celebrity family feuds
Dating rumors
Adele is dating someone new. The singer was linked to sports super-agent Rich Paul after they were seen together at an NBA Finals game in Phoenix on July 17. ESPN's Brian Windhorst broke the news on the "The Lowe Post" podcast, telling listeners that Rich, who is LeBron James's agent, brought "his girlfriend to the game sitting next to LeBron. His girlfriend is Adele. This is the first time that they've come out in public together." In the days that followed, several media outlets confirmed the romance. "They are [definitely] dating," a source told Page Six. The couple were again seen together this time on a double date, The Sun reported, at Cipriani restaurant in New York City on July 22. According to People magazine, the pair have been seeing each other "for a few months."
RELATED: Celeb breakups of 2021
She's out
"The View" is changing. On July 1, Meghan McCain announced that she's leaving the show. "I'm just going to rip the Band-Aid off," she said at the top of the show. "I am here to tell all of you, my wonderful cohorts and viewers at home: This is going to be my last season here at 'The View.'" She said she'd remain until the current season ends in late July. The conservative said the decision wasn't easy. "On a professional note, this show is one of the hands-down greatest most exhilarating most wonderful privileges of my entire life," she said. Reports claim one of the main reasons Meghan is leaving is due to nasty back-and-forth arguments, often with co-host Joy Behar. The show hopes to replace Meghan with another conservative, but producers are reportedly in no hurry and don't want to rush the decision.
Babies on babies on babies
Nick Cannon is in seventh heaven. On July 4th, model Alyssa Scott confirmed that she'd given birth to a baby — Nick's seventh child and his fourth born in the last six months (to three different mothers: son Zen with Alyssa, twins Zion and Zillion with DJ Abby De La Rosa and daughter Powerful Queen with former beauty queen Brittany Bell; Nick also has a son with Brittany and twins with singer Mariah Carey). On his Power 106 Los Angeles radio show on July 7, the "Masked Singer" host said he intended to have this many children at once, explaining that he's "having these kids on purpose." He added, "I don't have no accident. Trust me there's a lot of people that I could've gotten pregnant that I didn't. The ones that got pregnant are the ones that were supposed to get pregnant." Earlier in the show, Nick quipped, "I'm like a seahorse out here. That's just the way I'm procreating."
Instagram official
Jennifer Lopez is publicly embracing her rekindled romance with Ben Affleck by making it Instagram official. On July 22, pal Leah Remini posted a pic of herself with J.Lo and Ben from her birthday celebration a month earlier. Just two days later on Jennifer's 52nd birthday, July 24, the singer-actress did it herself: At the end of a slideshow of bikini photos, she slipped in one of herself kissing Ben aboard a yacht in St-Tropez during a birthday vacation getaway.
Ex issue
Millie Bobby Brown's past love life was at the center of a controversy this week after an ex claimed he had a sexual relationship with her when she was 16 — and he was an adult. TikTok star Hunter Echo (real name: Hunter Ecimovic) caused the hubbub when, during a July 12 Instagram Live, he made crude comments about the "Stranger Things" star and crudely described sex acts he alleges they engaged in. Since he was 20 at the time, some viewers accused him of grooming Millie and breaking the law. Millie's team hit back, calling Hunter's claims "dishonest" and dubbing his claims "irresponsible, offensive and hateful." Her team never said what Hunter was being dishonest about. On July 14, he apologized for speaking about the relationship but never mentioned Millie's name or said he was being untruthful. Hunter blamed his blabbing on alcohol. On July 20, reports claimed Millie and her family were considering legal action against Hunter.
Surprise! Anna Faris is married again. The actress dropped the news on the July 19 episode of her "Anna Faris is Unqualified" podcast. While taking calls and speaking to listeners, she let it slip that she and cinematographer Michael Barrett had eloped at a courthouse in Washington state. "I think we've spent the last year in a place of reflection, in a place of prioritization to some degree, a place of anxiety, a place of assessment," she said. "But I'm looking around, so, my fiancé is right… he's now my husband." She added, "I'm sorry… I just blurted that out. I couldn't say fiancé anymore." Anna did not reveal when they exchanged vows.
Revealing outfit
We see you, Bella Hadid! We really see you! There's statement jewelry, and then there's what Bella Hadid wore to the 74th Cannes Film Festival premiere of "Tre Piani (Three Floors)." The model turned heads on July 11 in a very, very low-cut dress with a risqué neckline. But what got everyone talking was the gilded brass necklace that covered her breasts. The necklace in the shape of trompe l'œil lungs adorned with rhinestones was really a part of an optical illusion, as her breasts were actually covered with flesh-toned tape underneath. Bella posted her gratitude on her Instagram Story after her look went viral. "Thank you angel @danielroseberry," naming Schiaparelli's creative director. "This creation of yours is a dream come true. Art & reality. You and your mind are truly incredible!!! Thank you for Ever!!!"
The Internet went absolutely wild this month after a picture of Ice-T's daughter went viral. On July 18, the "Law & Order: SVU" star's wife, Coco Austin, posted an Instagram photo with 5-year-old Chanel that was snapped backstage at a Body Count concert. Fans immediately went wild thanks to Chanel's remarkable resemblance to her father. Chanel looks so much like her famous dad that fans actually wondered if the picture was doctored. The actor eventually reacted to the Internet's fascination. "Today @BabyChanelworld just wanted to say THANKS! for all the recent internet LOVE she's been getting… 48k Twitter and 447k IG followers," he tweeted. "Not bad for a 5yr old."
Combatting racists
Prince William hit back at British soccer fans who hurled racist words at England's Black players — three of whom missed penalty shots in the Euro Championship on July 11. "I am sickened by the racist abuse aimed at England players after last night's match," the Duke of Cambridge tweeted from his official Kensington Royal account. "It is totally unacceptable that players have to endure this abhorrent behaviour. It must stop now and all those involved should be held accountable. W." Following his comments, many on social media dubbed him a hypocrite for failing to publicly support his sister-in-law, Meghan Markle, after she faced years of racist commentary from some segments of the media, social media users and — as she and husband Prince Harry claimed in March — from within the royal family itself. After the Sussexes shared those heartbreaking allegations in an Oprah Winfrey sit-down, William has only made one public comment, telling reporters, "We're very much not a racist family."

Source: Read Full Article