Gunna Turns Himself In After Indicted on RICO Charge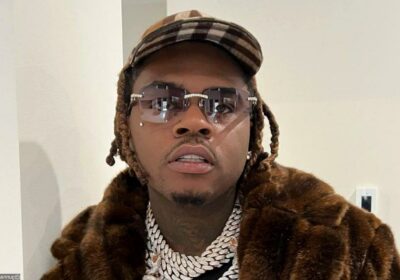 The 'Drip Too Hard' hitmaker has surrendered to authorities in Fulton County one day after he and Young Thug were listed in a 56-count indictment along with 26 other YSL associates.
AceShowbiz –Gunna has now joined Young Thug behind bars. The College Park-born star has turned himself in to police as he was named among 28 people associated with YSL who were charged in a 56-count Racketeer Influenced and Corrupt Organizations Act (RICO) indictment.
Gunna, born Sergio Giavanni Kitchens, surrendered to authorities in Fulton County on early Wednesday, May 11. He has been charged with one count of conspiring to violate RICO.
Meanwhile, Young Thug was arrested on Monday at a Buckhead mansion after the home where he was at was raided. The Grammy Award-winning artist has been booked into Fulton County Jail on multiple charges in the RICO case.
The conspiracy charge stems from an alleged incident that occurred on January 24, 2013 while the gang charge is connected to an alleged offense from May 12, 2018. He is also accused of commissioning the use of a 2014 Infiniti sedan that he rented from Hertz and was used in the 2015 murder of 26-year-old Donovan Thomas Jr.
Following his arrest, his lawyer has maintained the rapper's innocence. "I'll tell you the response to any allegation; Mr. Williams committed no crime whatsoever," Brian Steel said to reporters on Monday night. He went on sharing his vow, "We will fight to my last drop of blood to clear him."
On Tuesday, the 30-year-old, whose real name is Jeffery Lamar Williams, made his first court appearance. During the virtual hearing, he was told that his lawyer could argue for him to receive a bond at the next hearing, which is yet to be scheduled. He remains in jail while waiting for the next hearing.
Showing her support for the incarcerated star, his longtime girlfriend Karlae has taken to her Instagram Story to ask for prayers for her beau. Meanwhile, his father told Channel 2 Action News that his son is getting blamed for something he didn't do.
Source: Read Full Article