Get to Know 'Alma's Way' Star Summer Rose with 10 Fun Facts (Exclusive)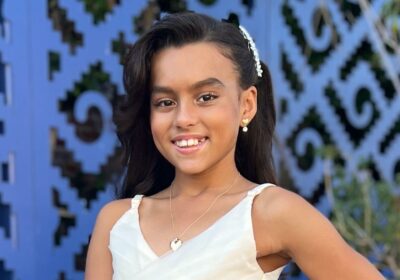 Summer Rose is sharing more about herself!
The young actress stars as the leading voice of the titular character Alma in the PBS animated series Alma's Way.
Summer even won the 2022 Imagen Award for Best Voice-Over Actor for her work on the series.
Keep reading to learn more…
Alma's Way centers on a Puerto Rican girl and her family living in the Bronx, where she learns to think for herself while making mistakes and finding solutions along the way.
The young actress also stars in the indie film Brownsville Bred.
We recently caught up with Summer Rose and learned 10 Fun Facts about her. Check out what she shared below…
1. The first thing I do when I wake up in the morning is make my bed. I've been doing this since I was five years old. It helps me get a good start to my day and I love being organized!
2. I love to paint and create abstract art. Abstract art doesn't make sense to most people, but I find it beautiful.
3. My family and I love to listen to music together and sing karaoke at home! My dad bought me a professional microphone and a huge Bose speaker, so it sounds amazing when we have Karaoke night!
4. My favorite singers are Lady Gaga and Adele. "Shallow" and "Rolling through the Deep" are the best songs. The way both of these ladies sing really touches my soul. I hope to meet them one day. I also love the rock band, Queen. I can listen to their song "I want to break free" all day!
5. I dream of visiting Paris one day and eating croissants. Paris has some of the best museums and fashion in the world and I love both those things. Also, I'm sure the Eiffel Tower is absolutely stunning at night!
6. My mother, April Hernandez Castillo is also an actor and she inspired me to become an actor.
7. One of my favorite meals is my mother's white rice; beans, chicken and tostones (plantains)
8. I was born and raised in the home of Hip Hop—the boogie down Bronx!
9. I'm half Puerto Rican and half Nicaraguan.
10. I really admire and dream of working with Jenna Ortega. She's a brilliant actor and Jenna is also half Puerto Rican!
Check out Summer Rose in an episode of Alma's Way right here…
Source:
Read Full Article