Gemma Atkinson forced to clarify next career move after fan confusion: 'It's not safe'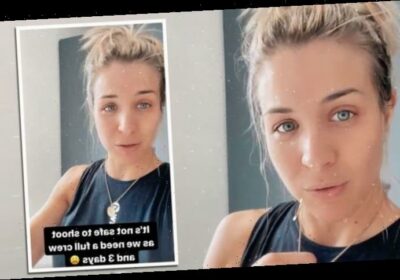 Gemma Atkinson reveals her book has been delayed until 2022
Gemma Atkinson took to social media today to confirm the details of her latest project today, after receiving messages from confused followers. The Packed Lunch star told fans that her new book will not be available to purchase until 2022, as it is "not safe" to shoot the pictures amid the ongoing coronavirus pandemic.
The confusion was caused by an earlier post in which Gemma revealed the expected release date on Instagram, in view of her 1.6 million followers.
The mum-of-one, who shares one-year-old daughter Mia with boyfriend Gorka Marquez, has devised a fitness plan for fellow mothers.
The Ultimate Body Plan For New Mums will be released in April next year.
The fitness fan reassured her followers that it would be "worth the wait," while explaining the hold up.
We will use your email address only for sending you newsletters. Please see our Privacy Notice for details of your data protection rights.
She said: "In regards to my book, a few DMs have said: 'Do you mean 2021? Surely you mean 2021?'
"No, it's coming out in 2022, because… covid!" Gemma explained.
Giving an update on the process of the project, she continued: "The book's pretty much written.
"All the recipes have been done and the photoshoots for the recipes have been done.
"Training plans done. Myself and Olly Foster did it, he's a genius by the way.
"He did the training plan for my first book, so if you enjoyed that one, you'll love this.
"We just can't do the photoshoot for the actual cover as obviously I have to shoot every single exercise, because it's for people who haven't trained, people who have trained, people who are smashing the training, so I have to do a shoot for every exercise.
"So that's why it's delayed."
DON'T MISS…
Naga Munchetty 'driven nuts' after losing essential BBC Breakfast item [VIDEO]
James Martin issues apology in rare home life insight 'A lot to do' [INSIGHT]
Rachel Riley speaks out on avoiding Countdown co-star Susie Dent [UPDATE]
In the caption for her post, Gemma went into even more detail.
She revealed that the photoshoot to capture the exercises would be a three-day process.
"It's not safe to shoot as we need a full crew and three days," she wrote.
"It will be worth the wait though. I promise you," she went on to add.
The 36-year-old former soap star said that one positive to the postponement, was that she would be able to do a book signing for the new release.
"With it being delayed I get to do a tour again," the ex Emmerdale star said.
"I did a book tour for my last one and I got to travel around and meet loads of you.
"If it was out this year, I wouldn't be able to do that, again because of Covid."
Source: Read Full Article