Garrett Hedlund Shows His and Emma Robert's Son in Rare Photos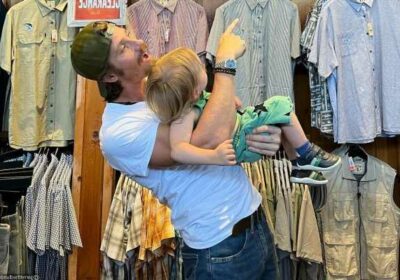 The 'Triple Frontier' actor, who welcomed baby Rhodes in December 2020 with his actress ex, shares pictures of himself and the 1-year-old at Bass Pro Shops.
AceShowbiz –Garrett Hedlund is giving his social media followers a sweet treat. Though rarely sharing a picture of his child with Emma Roberts, the "Triple Frontier" actor made an exception recently when he posted on social media some photos of him and their son Rhodes.
In the snaps shared on Instagram, the 37-year-old was seen lifting up his baby boy to see Bass Pro Shops' display of buffalo. He captioned it by writing, "A Very 'Simba-bolic' moment [red heart emoji] 'Meet the BASS PRO SHOP BUFFALO…. Daddies Spirit Animal."
Garrett and Emma welcomed baby Rhodes in December 2020. The pair were first linked romantically in March 2019, just one month after she called off her engagement to her "American Horror Story" co-star, Evan Peters. However, Garrett and Emma parted ways after almost three years together.
A source told Entertainment Tonight in January this year that "they are not living together" following the separation. "Their relationship has been rocky for a long time and the situation is really sad right now," the insider added. "[The two] grew apart when Garrett was away working [but] they are still coparenting, and still doing things as a family."
Emma reportedly gave Garrett "multiple ultimatums" before pulling the plug on their romance. A source additionally told Us Weekly, "They have a very amicable relationship with each other and are being very adult about their breakup."
"Garrett and Emma have a great coparenting relationship. When he's sober, he's a great guy and they've been handling co-parenting very well," the informant continued, adding that Garrett "has been battling addiction [issues] for years."
Despite the split, the "Tron Legacy" star proved that he has nothing but love for the "Holidate" actress. When celebrating Mother's Day in May, he shared a handwritten note dedicated to his baby mama.
"Happy Mother's Day! To the most beautiful mother, dear Emma," so read the message. "You gave us a gift who never ceases to melt our hearts, amaze our minds, and make all the anythings just fly away. From morning to night, all my love." He then signed the note.
Source: Read Full Article