Frankie Grande Warned by Madonna His Throuple Relationship Is 'Not Going to End Well'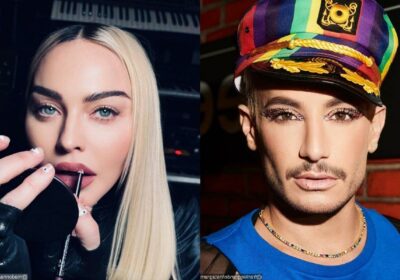 The older brother of Ariana Grande reveals the one relationship advice he got from the 'Like a Virgin' hitmaker that he ignored during his appearance on the 'Tamron Hall Show'.
AceShowbiz -Having gone through two marriages and multiple splits, Madonna is at least right about one thing when it comes to a romantic relationship. Being part of a throuple will not work, according to the Queen of Pop, as recalled by Frankie Grande.
The YouTube personality revealed the one relationship advice that he got from Madge during his appearance on the "Tamron Hall Show" on Wednesday, September 21. "I was talking to Madonna of all people – talking to the queen – and I told her about the throuple," he recounted. "She literally said, 'Well, that's not going to end well.' She said that, and I still did it."
As to why he ignored Madonna's advice, Frankie admitted, "I'm always the person that says yes to whatever comes into my life, and I've never been afraid to take risks or do something unconventional." He went on explaining to Tamron Hall, "That's kind of always been my brand. So when this relationship presented itself to me I was like, 'You know what, why not? Let's just try it, let's go in.' And it did not work."
The former "Celebrity Big Brother" contestant learned from the experience that he wanted a monogamous relationship. "I realized I wanted my own man, and I wanted a monogamous relationship with someone who was going to just love me," he shared.
Frankie has since moved on with his now-husband Hale Leon, whom he married in May of this year. Nowadays, he turns to his younger half-sister Ariana Grande, who has been married to real estate agent Dalton Gomez since May of last year, for marital tips.
"She gives me every advice, you know what I'm saying?" the Broadway star added. "Like, she's my sister and she's my best friend. So we talk about everything. So it has been really nice now to have that common thread, like she was married a year before I got married. Just by being so close and watching her in love, you know, we learn from each other, we learn from each other's experiences."
Source: Read Full Article