Felicity Huffman Says She Never Cared About Whether or Not Her Daughter Got into a Prestigious College
While we were all enjoying the summer, Felicity Huffman and her family were likely having a stressful few months after Felicity pled guilty for her part in the college admissions scandal and was charged with conspiracy to commit mail and honest services fraud. It now looks like Felicity might be sentenced to jail time and a $20,000 fine as punishment.
However, there still hasn't been a final ruling on her sentencing, so Felicity recently sent the judge a letter asking for leniency. The letter was obtained by People, and in it Felicity claims that she never actually cared whether or not her daughter Sophia went to a good school—she simply didn't want her daughter's poor math scores to prevent her from being considered by acting programs.
She wrote:
Felicity adds that she thought she "would be a bad mother if I didn't do what Mr. Singer was suggesting," but afterward, "the decision haunted me terribly."
We don't know yet whether the letter will sway the judge, but it seems like Felicity is really regretting her part in the scandal.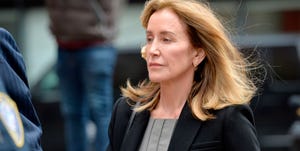 Source: Read Full Article