Erika Jayne Accused of Being 'Frontwoman' in Tom Girardi's 'Criminal Enterprise' in $55M Lawsuit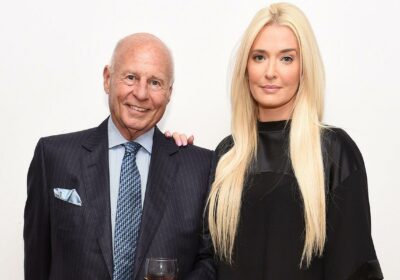 In the paperwork filed by Edelson PC law firm, 'The Real Housewives of Beverly Hills' star is accused of racketeering, unlawful business practice, consumers legal remedies act as well as deceit.
AceShowbiz –Erika Jayne is facing a new legal battle. "The Real Housewives of Beverly Hills" star has been named in a $55 million lawsuit that accuses her of being a "frontwoman" in her estranged husband Tom Girardi's "criminal enterprise."
The 50-year-old reality star has been sued by the Edelson PC law firm alongside her company, EJ Global LLC, the Girardi & Keese law firm and its lenders. The lawsuit seeks an amount of no less than $55 million in damages.
Edelson PC accused the defendants of racketeering, conspiracy to commit racketeering, receipt of stolen property, aiding and abetting concealment of stolen property. Erika, along with her company, was also sued for conversion, unlawful business practice, consumers legal remedies act as well as deceit.
Edelson PC also referred to the situation as a "scheme," claiming that Erika "acted as the 'frontwoman' of the operation, selling to the world (including unsuspecting clients) that [Erika's law firm] was successful." They also alleged that Erika "displayed a nationwide showroom of the money they stole on 'Real Housewives'."
"To this day, Erika uses her significant public platform to lie about her own involvement and to try to assist Tom and the others in getting away with it," the documents noted. The papers also stated that the TV personality "made the cynical decision to leverage the scandal to further her career and stay relevant in the tabloids, meaning more exposure and a larger paycheck for her next season of performing on 'Housewives'."
The legal docs added, "All told, it stole more than $100 million dollars from the firm's clients, co-counsel, vendors, and many others unfortunate enough to do business with the firm." Edelson PC further claimed that "every bit" of the firm's "outward-facing success was built atop a house of cards," alleging that Erika's company "was siphoning off millions to fund Tom's and Erika's all-consuming need to spend — funding a lifestyle so lavish that Erika was a cast member of 'The Real Housewives of Beverly Hills'."
"The couple certainly played up the part of flaunting their wealth and the fact that Tom was a powerful attorney who wooed celebrities, judges, and politicians alike," the motion insisted. "But that money was not earned by the firm or by Tom, but was stolen: from co-counsel, from vendors with long-overdue bills, and — by far the most unforgivable for an attorney — from the firm's own injured clients."
In a separate statement, Edelson PC Founder and CEO Jay Edelson said "it is going to take some time to fully untangle the decades-long fraud committed by Tom's enterprise." Jay stressed, "We are, however, confident that we can prove that the law firm was operating as a criminal enterprise."
"We understand that many of the people we have identified, including Erika and Tom's partners, have focused on a campaign of lies, misinformation, and victim-blaming," Jay continued. "While those tactics can work fine on a 'RHOBH' reunion show, it is a disaster in a court of law."
The new lawsuit came after Erika was dismissed from an embezzlement and fraud lawsuit against Tom. Prior to the dismissal, Erika was forced to surrender a set of diamond earrings which were valued at $750,000 amid Tom's bankruptcy case. However, her lawyer Evan Borges insisted that she's "completely innocent" because she didn't know that her then-husband purchased the lavish gift using money he stole from client funds.
Source: Read Full Article