Emily Ratajkowski Pokes Fun at Her Rumored Romance With Pete Davidson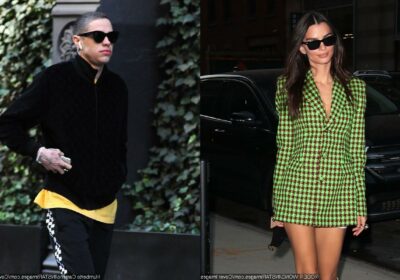 While the two stars have yet to address the speculations, the 31-year-old model and 'Gone Girl' actress continues to poke fun at the rumors of her dating the comedian with her social media activity.
AceShowbiz -Are they dating or not? Emily Ratajkowski surely kept fans wondering if she's currently dating Pete Davidson after the two were spotted spending time together on the comedian's 29th birthday.
While the two stars have yet to address the speculations, Emily continued to poke fun at the rumors with her social media activity. On Thursday, November 17, fans caught her liking a tweet about her using Pete as a rebound."
The said tweet featured a picture of the "Saturday Night Live" alum alongside the lyrics from Drake's new song "Middle of the Ocean". The lyrics read, "EmRata here fresh off divorce/ And I'm trying to look in her eyes, maybe express my remorse/ If she wanna rebound w me, I'm down to get her some boards."
The Twitter user appeared to joke that "The King of Staten Island" wanted the 31-year-old beauty to rebound from her divorce from Sebastian Bear-McClard with him. She and the film producer, with whom she shares a 1-year-old son Sylvester together, split in September following allegations that he cheated on her.
That aside, Emily hinted that she wants to date "multiple" men and women. On Thursday, the "Gone Girl" actress shared a TikTok video of herself mouthing the words to audio that said, "I would be with multiple men, also some women as well." She added, "Um, everyone's hot but in an interesting way."
Many have since reacted to the clip, with one fan writing, "I mean…ur well on ur way! Brad Pitt, some nyc dj, Pete Davidson, in a span of a couple of months lol and that's just what we know." Another commented, "sis trying to say Pete ain't the only one."
The video came after Pete and Emily were snapped sharing a hug while meeting to celebrate his 29th birthday in New York City. For the outing, they opted to twin in matching black puffer jackets, white T-shirts and gray sweatpants.
Source: Read Full Article