Doja Cat Shows Off Her Arm Full of New Tattoos After Backlash Over Bat Skeleton Ink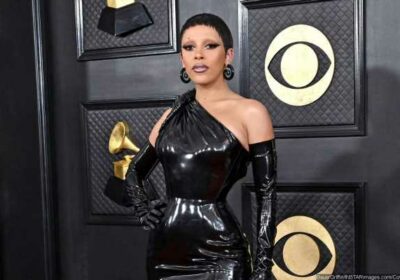 The 'Kiss Me More' songstress unveils some brand new inks of a bat, a key and a phrase from 'Hansel and Gretel' on her left arm after getting a huge bat skeleton tattoo on her back.
AceShowbiz –Doja Cat isn't done decorating her body with tattoos. After debuting her controversial huge bat skeleton tattoo on her back, the 27-year-old singer/rapper has unveiled more fresh inks on her arm.
On Sunday, May 7, the Grammy winner took to her Instagram page to share pictures of her left arm, which is now adorned with a key tattoo and a bat tattoo. She tagged tattoo artist Oscar Akermo in the post.
A phrase from "Hansel and Gretel" was also added on top of all other tattoos. "So, children, please, beware of gifts. Beware of those that offer them. And beware of those who are only too happy to take them," it read.
Oscar additionally posted on his own account some black-and-white pictures of Doja's new tattoos. He also shared a snap of the process. It appears that he drew three new tattoos for the hip-hop star as he captioned the photos with a bat, a key and a skeleton emoji.
Just a few days ago, Doja showed off her bare back to unveil her huge bat skeleton tattoo. The post indeed included an explanation regarding bat. The highlighted part, which Doja seemingly cited as the reason why she got the tattoo, read, "Bats often represent death in the sense of letting go of the old, and bringing in the new. They are symbols of transition, of initiation, and the start of a new beginning."
Despite the explanation, many still linked Doja's "demonic" new tattoo to rumors that she sold her soul to demon. Seemingly trolling her her haters, Doja returned to Instagram on Saturday to share more topless photos that showed her back tattoo while also putting her side boob on display. "swipe for a bunch of side t*ts," she captioned it.
Meanwhile, Doja has also returned to Twitter after announcing a break in late April. "My comment section on IG used to be only positivity because I was doing what everyone wanted me to do and I love that I can see through all the bulls**t now. It's nice. Much love to everybody else thats been down since day one I appreciate it," she wrote on Sunday.
When a follower asked since when she "moved away from the mentality of doing what others wanted," the "Say So" songstress responded, "After coachella when I felt so tired of doing a bunch of shit i didn't believe in and not telling my side or my story with my music. When I realized I hadn't done anything personal and that i was cranking out digestible pop hits for children on twitter to get into fights about."
Doja Cat returned on Twitter after announcing a break in late April.
A critic pointed out, "You pop hits are giving you 'relevance'. What else do you want? Don't be ungrateful." At this comment, Doja snapped back, "I'm so sorry that you'll never learn that being relevant is not all that matters in this short life we live on earth. Grow up."
You can share this post!
Source: Read Full Article