Did Sylvester Stallone Just Say Goodbye to Rambo for Good?
View this post on Instagram
It's a long long road that has been traveled … thank you for the support…
A post shared by Sly Stallone (@officialslystallone) on
Sylvester Stallone appears to be retiring yet another of his most iconic characters.
Just last week, Sly said goodbye to Rocky Balboa in an emotional Instagram post with his Creed II crew, saying that it was "probably his last rodeo" as the Italian Stallion. Now, he's taken to social media again to seemingly bid farewell to John Rambo, the Vietnam veteran he's played since 1982.
In a short video posted to Instagram on Tuesday, Stallone said he'd just wrapped his final shot for Rambo V, which is due out in 2019, and reflected on how the classic action franchise began.
"This character was presented to me in 1980, and nobody wanted to do it," Stallone said. "As a matter of fact, I was the 11th choice. People looked at this as sort of a cursed project. I looked at it and said, 'This is an amazing opportunity.'"
"It's been an amazing journey," he added.
Rambo V, which is expected to be subtitled Last Blood, is believed to be the last installment of the iconic action series (though knowing Stallone, anything could happen). The franchise began with 1982's First Blood, in which a shell-shocked Rambo—recently returned from Vietnam—uses guerrilla tactics to save himself from abusive law enforcement officials in a small Washington town.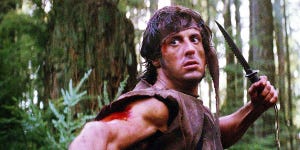 The most recent film in the franchise came in 2008, and found the iconic character on a rescue mission in Myanmar. For what is said to be his last mission the vigilante vet is expected to take on a drug cartel. Filming for Rambo V began in October, and is due in theaters next fall. As was the case with the Michael B. Jordan-anchored Creed II, which was released last month to strong reviews, Stallone also co-wrote the latest installment of the Rambo saga.
It's not exactly clear what it means that the 72-year-old Stallone seems to be retiring two iconic characters in just one year, but it would certainly represent the end of an era. It was Balboa, after all, that catapulted him to fame in 1976, and Rambo that helped turn him into the seminal action star he remains today.
"It's a long long road that has been traveled," Stallone wrote in the Instagram post Tuesday. "Thank you for the support."
Source: Read Full Article