Dan Walker calls on Zoe Ball for help after missing clock causes 'havoc' on BBC Breakfast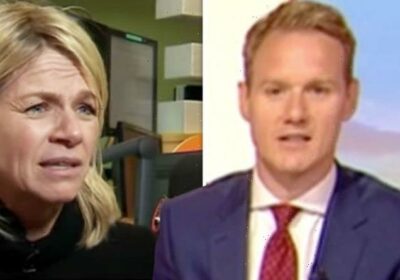 Dan Walker jokes that his wife 'sleeps like a horse'
We use your sign-up to provide content in ways you've consented to and to improve our understanding of you. This may include adverts from us and 3rd parties based on our understanding. You can unsubscribe at any time. More info
Dan Walker, 44, was on the hunt for a clock this morning after BBC Breakfast's on-screen feature showing viewers the time suddenly disappeared from the show. The star called on his BBC colleague Zoe Ball, 50, for help with the issue after many fans questioned the clock's whereabouts and admitted its absence had impacted their morning routines.
Dan shared the problem with BBC Radio 2 Breakfast Show host Zoe after she wrote in view of her 378,000 followers: "Goooood morning tweeps. How we feeling today?"
The journalist retweeted her post in view of his 719,000 followers and wrote back: "We've lost our onscreen clock Zoe and it's causing havoc [crying with laughter emoji].
"Have you got a spare one at @BBCRadio2?"
Zoe then offered a few replacements for the BBC Breakfast clock from her studio, including two on her computers and a wall clock.
She jokingly penned alongside several photos of the clocks: "can spare you any of these @mrdanwalker and @louiseminchin i'll pop on my bike during nina simone and nip one over….. @BBCBreakfast."
"Top left please. Looks very funky," Dan replied, pointing out his favourite clock from Zoe's studio.
It comes after Dan and his co-host Louise Minchin first addressed the clock's disappearance on social media, with the latter reassuring viewers that they would "keep telling you the time".
Louise tweeted: "Good morning we have no clock on #BBCBreakfast but promise we will keep telling you the time!! Currently 6.44."
Dan then weighed in with an update, retweeting Louise's post a few minutes later and revealing, "We still can't find the clock".
Dan also responded to a frustrated viewer who was encountering issues due to the clock's absence.
They fumed: "@mrdanwalker where the heck is the clock?! My morning routine is going off the rails."
The former Football Focus host replied: "The clock has died. We are trying to find it.
DON'T MISS:
Michael Ball, 58, hits back at 'toyboy' suggestion with partner, 78 [OPINION]
Tom O'Connor dead: How did Tom O'Connor die? [INSIGHT]
Ulrika Jonsson strips off again after brutal reaction to naked shoot [PICS]
"Fear not… normal service will resume shortly #BBCBreakfast."
Another fan then complained that the technical issue had made him late for work.
They tweeted: "You don't realise how much you rely on the @BBCBreakfast clock until it isn't there! #LateForWork @mrdanwalker @louiseminchin."
Apologising for the problems caused, Dan wrote back: "Sorry… there are engineers on the hunt for it #BBCBreakfast #WheresTheClock."
Other fans also took to the micro-blogging site to question the missing clock.
One person wrote: "BBC breakfast's clock isn't working this morning???? How can it be so hard to get the clock that's there every morning working? it's thrown me I have no idea what time it is."
Another added: "No clock?! That's why I put @BBCBreakfast on in the morning!! I leave at exactly the same time every morning to get the bus! @mrdanwalker."
A third person commented: "@mrdanwalker @louiseminchin the #bbcbreakfast clock died will be the most used excuse for lateness this morning."
Source: Read Full Article