Dame Esther Rantzen tearful over kind messages since cancer diagnosis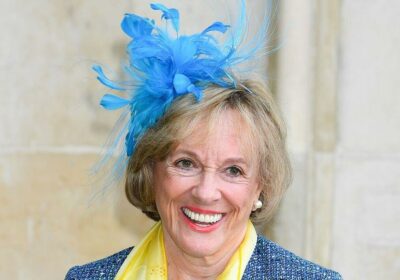 We use your sign-up to provide content in ways you've consented to and to improve our understanding of you. This may include adverts from us and 3rd parties based on our understanding. You can unsubscribe at any time. More info
Dame Esther Rantzen, 82, opened up over the weekend about her lung cancer diagnosis and admitted that she is remaining "optimistic" for her future. The BBC presenter has since responded to the outpouring of messages she has received since opening up about her diagnosis and even admitted that she became tearful reading some responses.
So thank you for lifting my spirits!

Dame Esther Rantzen
Following the announcement, Dame Esther has been inundated with support from fans and fellow celebrities, with the TV star even shedding tears over some messages.
She told the PA agency: "I never dreamt I would receive such extraordinarily kind messages, some from close family, friends and colleagues…
"Some from viewers and readers I've never met, some from people I am deeply fond of but haven't seen for ages – and so many wicked memories of jokes we enjoyed together which I cannot deny."
She continued: "So thank you for lifting my spirits, especially with personal anecdotes from people who have been helped by charities such as Childline and The Silver Line and stories from friends who have experienced really effective cancer treatments.
"Over the past day I have discovered that if you do decide to share your story, as I did, you will be amazed and delighted at how kind people are – and sometimes slightly shocked by how accurate their memories of your misdemeanours can be. Thank you, everyone!"
Dame Esther confirmed the sad news of her lung cancer to PA over the weekend, revealing that despite the news she still remains "optimistic" for her future.
The statement read: "In the last few weeks I have discovered that I am suffering from lung cancer which has now spread. At the moment I am undergoing various tests, to assess the best treatment.
"I have decided not to keep this secret any more because I find it difficult to skulk around various hospitals wearing an unconvincing disguise, and because I would rather you heard the facts from me.
"At the age of 82, this diagnosis has prompted me to look back over the years, and I want to express my profound thanks to everyone who has made my life so joyful, filled with fun, and with inspiration.
"First and foremost my family. My three children Miriam, Rebecca and Joshua have been the most wonderful support, company, and source of love and laughter and I am deeply grateful to them.
"My friends have been amazing and have created memories which sustain me and give me strength.
"My colleagues with whom I have worked, and continue to work with in broadcasting, journalism, the voluntary sector, and in many other organisations have been a constant pleasure, and have amazed me with their tolerance of my wild ideas and awful jokes.
"I have been continuously inspired by the courageous children, older people and viewers who have trusted me with their life stories. I have always tried to live up to that trust.
"As I am sure you will understand, while I am awaiting the results of the tests, I am unable to answer questions. Thanks to the extraordinary skills of the medical profession there are wonderful new treatments, so I am remaining optimistic."
Dame Esther has made history as a pivotal woman in British female broadcasting, rising to fame on the BBC with the show That's Life!
That's Life! featured investigations, topic issues and entertainment, proving to be very successful as it ran from 1973 to 1994.
Dame Esther is also beloved for her charity work, as the founder of children's charity Childline, which she established in 1986.
The charity offers counselling and support for children and young people, up until the age of 19, in the UK.
She also went on to set up The Silver Line in 2013, a charity which aims to support elderly people in the UKL who are battling illness.
In 2021, Dame Esther received the lifetime achievement award at the Women of the Year Awards for her charity work.
Source: Read Full Article