Cristiano Ronaldo Breaks Silence on Rumors He's Responsible for Tom Brady's Unretirement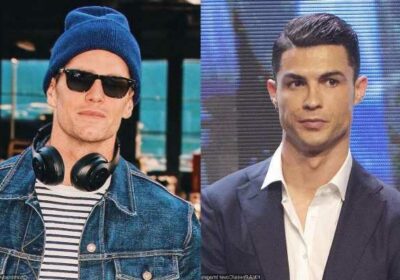 During an interview with Piers Morgan, the Manchester United star jokes about being a 'good psychologist' when asked if he tried to convince the seven-time Super Bowl champion's decision to end his 40-day retirement.
AceShowbiz –Cristiano Ronaldo is setting the record straight. The Portuguese soccer star has denied reports that he once convinced Tom Brady to come out of his NFL retirement during their Old Trafford meeting in March.
During a sit-down with Piers Morgan published on Friday, November 18, the Manchester United star went into detail about what took place in his and Tom's meeting at Old Trafford on March 12. "Tom Brady, the great NFL quarterback, retired. Then he has a conversation with you at Old Trafford. Whatever you say to him, the next day, he comes out of retirement," Piers, a self-professed die-hard Ronaldo fan, told the 37-year-old athlete.
"Psychology, see," Cristiano joked, "I'm a good psychologist." He then switched gears, denying any responsibility for Tom's decision. "I think he had taken the decision a few weeks before that," so he said. "He's a very smart guy who knows a lot about football [soccer], we had a nice conversation. I don't think that had anything to do with it, though."
On March 12, just one day before Tom announced his return to Tampa for a 23rd NFL season, CR7 spoke with the Tampa Bay Buccaneers player while on the pitch at Old Trafford, following a Manchester United victory over Tottenham.
In a viral clip taken on the pitch, Cristiano could be heard asking Tom, "You're finished [playing] right?" It's unclear what the seven-time Super Bowl champion said, as his response was inaudible in the video. Though so, the footballer could be seen squinting and smiling with his hands in his pockets.
At the time, people on Twitter ran with theories that Cristiano had convinced Tom to come out of retirement, with one person tweeting that the quarterback's decision was fueled by the "Cristiano effect."
On March 13, the day Tom announced his return for a 23rd season, Cristiano took to Instagram to share a photo of the pair at Old Trafford. "Always a pleasure and a privilege to share some thoughts and ideas with another GOAT…," he captioned the post.
In September, it's reported that Tom's decision to end his 40-day retirement was what led to the start of marital issues with his now-ex-wife Gisele Bundchen. The former couple, who shares two kids, Benjamin, 12, and Vivian, 9, confirmed in separate social media posts last month that they finalized their divorce.
Source: Read Full Article