Countdown's Rachel Riley issues apology to Russell Kane over 'puerility' following blunder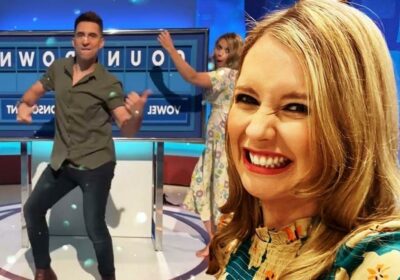 Countdown: Rachel Riley introduces her new baby
We use your sign-up to provide content in ways you've consented to and to improve our understanding of you. This may include adverts from us and 3rd parties based on our understanding. You can unsubscribe at any time. More info
Countdown presenter Rachel Riley took to Twitter earlier today to apologise for her "puerility" in a video shared by Russell Kane on social media. The 36-year-old could be seen in an Instagram video uploaded by the comedian performing a gesture of a sexual nature.
The clip, shared in view of Russell's 312,000 followers, showed Rachel "bombing" in the background, moving her fist up and down.
Russell, who could be seen dancing for the camera, cheekily captioned the post: "Would have been a funny dance had I not been abused by @rachelrileyrr"
Today, Rachel shared the video to apologise to the actor as she tried to make light of her actions.
She tweeted: "I thought I was privately ruining just one of a bunch of photos @russell_kane was taking on set, I didn't realise I was bombing an Instagram dance video…
"I would like to apologise unreservedly for my puerility, especially to any w**rs offended by my behaviour." (sic)
Twitter users joined in on the joke to send their support to Rachel.
Jsbrads quipped: "Made the video better."
Johnny_JI81 added: "Dancing is always better barefoot."
7ellis96 penned: "You just saw the dancing and had to join in, no problem there!"
Windassone stated: "This is the Twitter video of the day by far! X"
Rachel was recently featured in a memorable on-air moment as she was spotted trying to stop herself from smiling as a Countdown contestant offered up an awkward answer.
The TV star could be seen raising an eyebrow and smiling at the camera when a letter's round created a comical situation.
Stand-in host Colin Murray shrugged it off as the contestants snickered while giving their answers to the new presenter of the long-running quiz.
The moment was caused by the word "vagina" being offered as a potential winning answer by hopeful contestant Thomas.
However, the word did not win the round, for it was outperformed by Mike's offer of the plural version – "vaginas".
Colin said: "There you go! What a difference – putting an 's' on. I mean, that's the thing – always pluralise."
The nine letters on the board for the competing players were "I N V A A G K S and U".
While Colin remained serious throughout, Rachel reacted with a smirk and a smile at the camera.
The group then moved onto the next round.
Countdown airs weekdays on Channel 4 at 2.10pm
Source: Read Full Article