Coleen Rooney's 'painful' 4 years of hurt as she reaches Wagatha Christie milestone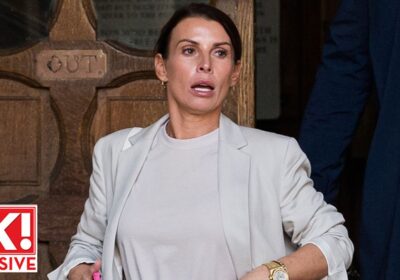 This week marks a milestone – four years since Coleen Rooney infamously accused fellow WAG Rebekah Vardy of leaking personal stories about her to the press – a saga dubbed 'Wagatha Christie', due to the former's detective work.
Now, experts have told OK! Coleen is bouncing back after a 'painful' four years, and while she may have won the legal side of things, that hasn't been the case emotionally.
"It would've been a painful four years for Coleen to endure despite 'winning' legally," explained celebrity PR expert Jack Proverbs.
He added: "There's no shadow of a doubt that it would've impacted her emotionally over the last few years because no matter how many people supported her case, there will still be those who dismiss the accusations despite Rebekah Vardy losing her libel case against Coleen Rooney."
The turmoil began on October 9 2019, when Coleen, who is married to Wayne Rooney, took to social media to accuse Rebekah, whose husband is England player Jamie Vardy, of selling stories about her to newspapers.
With Rebekah vehemently denying the accusations, this led to her suing Coleen for defamation in 2020 and eventually made it to court in May last year.
Taking place at London's Royal Courts of Justice, Coleen ultimately took the win as the court deemed that her accusations were 'substantially true'.
Looking at how she tackled things publicly, PR expert Ed Hopkins told us: "Coleen has been extremely active on her social media, particularly Instagram, sharing numerous family trips, celebrations, and events, painting a portrait of unity.
"She has also undertaken a media training course, arming herself with skills to manage and navigate the press."
While the trial is bound to have been tough on both women mentally, it has also had an impact on Coleen's marriage to sportsman Wayne – sharing recently that it 'took a toll' on the relationship.
In an interview with Vogue, she describes herself as 'hurt, short-tempered and frustrated', sharing how Wayne 'didn't think she was the same person' during the proceedings.
While PR guru Ed explained that Coleen talking about these issues so publicly may 'offer her a chance to share her perspective'.
But now, Coleen is coming back into the swing of things as expert Ed adds: "The past four years have been transformative for Coleen Rooney.
"From being at the centre of one of the most-discussed controversies to harnessing that attention and channelling it into productive avenues, Coleen has showcased her ability to bounce back, evolve, and shine. Her journey serves as a testament to resilience and the power of reinvention."
Source: Read Full Article