Christine McGuinness seen house hunting while still living with ex Paddy after split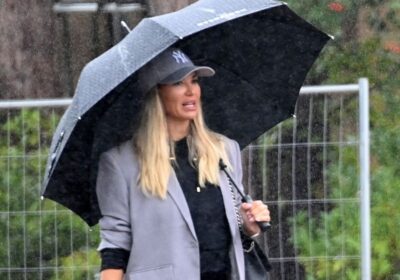 Christine McGuinness has been spotted house hunting with an estate agent after admitting that she still lives with her ex-husband Paddy more than a year after their split.
The Real Housewives of Cheshire star kept a low profile as she wore black skinny jeans and a hoodie, with a grey blazer, designer handbag, and a baseball cap for the outing.
Christine was seen touring a luxurious new build property site in Cheshire.
The homes, some of which are still under construction, are situated within one of the most exclusive areas of Cheshire.
All of the properties available boast five bedrooms, each with its own ensuite bathroom.
It comes as Christine told us how she doesn't plan to live with Paddy forever, sharing that it just 'works right now.'
The 33-year-old shares twins Leo and Penelope and Felicity with the Take Me Out presenter. All three of their children, as well as Christine, have been diagnosed with Autism.
Speaking exclusively to OK! the model revealed that she and Paddy, 50, were still living together as they 'don't want to change anything too quickly.'
After we asked her how long she planned to live with her ex-husband, she said: "We don't know. It's certainly not a long-term or forever plan. "
"It works right now because we're both so busy, and we're in and out of the home, so we tend to swap days and we'll share. It's much like any parent really – juggling jobs and children," she continued.
"We definitely don't want to upset them or change anything too quickly, and for me as well. I like slow changes, and we're alright – we're family. I've known Paddy for 15 years, so I don't know life without him. It is what it is."
Christine also opened up about the challenges dating with autism will bring as she admits she 'doesn't really like people.'
She explained: "I was talking to my friends about it earlier, and actual dating sounds awful anyway for anybody, but [especially] for an autistic person who doesn't really like people.
"I don't like new places, restaurants, and I'm very particular with food, so the last thing I would want to do is go on a date. I can't even imagine it.
"I've never really dated. When I met Patrick, I met him casually, and we built up a friendship before it got romantic, so something like that would probably suit me better.
"However, right now I'm focusing on the children and my work. Any free time I've got goes on myself because I'm exhausted. Dating doesn't sound fun, and I've heard some horror stories, so I'm not planning on jumping in there.'"
Source: Read Full Article