Christine McGuinness hints at feeling 'lost' as she adjusts to split from husband Paddy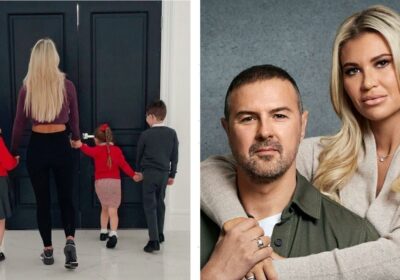 Christine McGuinness, 34, hinted that she was finding it difficult to adjust after her marriage dramatically ended, via a series of emotional Instagram posts. Her latest one depicted a street sign with the words: "You'll always feel a little lost right before you find yourself."
You'll always feel a little lost right before you find yourself again

Christine McGuinness
She called it quits with Top Gear host Paddy, 49, this summer, leaving her to face her worst fears – that her three children would grow up with their parents living apart.
Christine had previously spoken of her longing to create the family unit that she'd never had, after she grew up without a father at home.
However, she has been embracing the single life, playing darts on a night out, despite discovering she was "terrible" at the game, and enjoying the sunset by the banks of the River Thames, which she branded a "healer".
She also took a holiday to Devon to recuperate from the split, but was dealt a double blow with the news that her grandmother had died.
READ NOW: 'Breaks our hearts' Matt Baker's sad admission about family life
We use your sign-up to provide content in ways you've consented to and to improve our understanding of you. This may include adverts from us and 3rd parties based on our understanding. You can unsubscribe at any time. More info
"My Nan, the one with the words of wisdom, joined my grandad in heaven last week," she revealed on Instagram, before confiding: "It's hit me harder than I ever imagined."
She added: "Then my dad turned 60… if you have read my story you will understand why this is huge.
"I can't help but wonder how he made it this far," the model continued.
Christine has previously spoken of her father's battle to curb his heroin addiction.
"I'm so grateful he is still here, even with his struggles, I'm thankful for that," she explained in her post.
The early trauma she experienced with her father had made her all the more grateful for the stability in her marriage to Paddy – and she was devastated when that was gone.
"We didn't have it easy growing up, [as] my dad started heroin before I was born," she had previously revealed to Sophie Ellis Bextor, the host of the Spinning Plates podcast.
"My mum left and raised me and my brother and sister on her own," she elaborated.
"I just wanted them to have hot water and a nice house, nothing to the extent that of what I've got – this is beyond my wildest dreams."
She previously detailed in her book, A Beautiful Nightmare, that her mother, Joanne, had been forced to leave her dad due to his struggles.
However, she has credited her mum with showing her what a "strong independent woman" is.
It is that strength and resilience which she hopes to draw on as she adjusts to her marriage split.
Prior to the split, Christine had confirmed that she would "never throw Paddy out", and the couple are currently still living together in the family home.
Meanwhile, she has listed on Instagram some of the most important things she has experienced this month as a single woman, including "extra time with my babies", a haircut and a "gorgeous sunset".
She added: "I discovered I'm terrible at darts but laughed loads!"
The star also added on the social media platform recently that "passion led me to peace" and that taking time out for herself has helped her understand "how precious life is".
Source: Read Full Article