Chris Packham talks life with tight security after car blown up outside home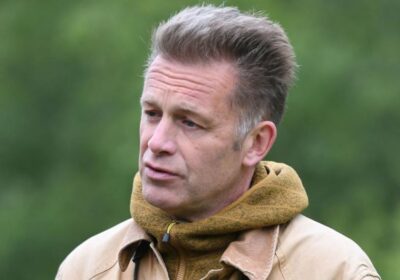 Chris Packham talks about impact of car blast on his family
Chris Packham has revealed in a new interview that he feels "resentful" of the security measures he's had to take to protect himself from "hate crime".
"I'm mildly resentful of the fact that, because I'm telling people the truth, a tiny percentage of people lash out. It's a hate crime," the 62-year-old raged to this week's Radio Times.
"It's on my social media feed on a daily basis, or there's physical violence – dead animals, death threats and burning things down."
Masked men torched a Land Rover outside his front gate back in 2021, causing "extensive damage" to his property.
On the advice of the police, Chris installed a security system which texts to alert him anytime someone approaches his home – but he's not keen on it.
READ MORE: Miriam Margolyes brands John Cleese 'poisonous' and 'irrelevant' in savage rant
"I don't like living in a stockade," he lamented, adding that he was "just a normal bloke" aspiring to "protect life".
"I'll carry on [protesting], and I know that at some point we'll probably have to put barbed wire along the top of the fence. But what's important is the result," he insisted.
"I've got to keep going. For me, winning is not giving up."
Don't miss…
Judi Dench in 'bad way' as husband rushed across the world to come to her aid[HEALTH]
Dancing On Ice pro teases host replacement after Phillip Schofield's exit[LATEST]
Chris Evans' wife Natasha in tears as 'part of her life has died forever'[GRIEF]
We use your sign-up to provide content in ways you've consented to and to improve our understanding of you. This may include adverts from us and 3rd parties based on our understanding. You can unsubscribe at any time. More info
The Autumnwatch star had previously discovered dead foxes, badgers and crows that had been tied onto his gate to antagonise him after he spoke of his contempt for hunting.
Yet despite the distress that seeing the corpses causes, he feels strongly enough about his mission to keep spreading the word.
Although he has spoken out angrily against the arsonists who torched his car, he didn't use the interview to condemn the actions taken by climate change protestors.
In fact, he believes the controversial protests might lead to statues of climate protestors being erected in London's Parliament Square, alongside the likes of Nelson Mandela and Millicent Fawcett.
"The suffragettes set fire to things, smashed a lot of glass, attacked people on the street. And in apartheid, they were blowing up trains, blowing up factories," he mused,
"At the moment, no one is blowing up an oil refinery, but a lot of people think that is very likely to happen."
He acknowledges that some will be "infuriated" by the lengths protestors have gone to, but believes that – provided no-one is hurt and that no long-lasting environmental damage is caused – breaking the law during protests is the "ethically responsible thing to do".
Read the full interview with Chris Packham in this week's Radio Times – out now.
Source: Read Full Article