Celine Dion cancels entire world tour as she issues worrying health update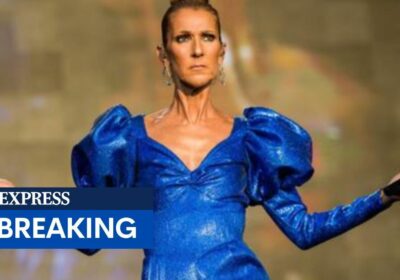 Celine Dion reveals she has Stiff Person Syndrome
Celine Dion has been diagnosed with a rare condition that is turning her into a 'human statue'
The My Heart Will Always Go On singer has revealed she has been left devastated after realising she is unable to take on continue the 42 date tour while battling Stiff Person Syndrome.
Her condition causes severe and constant muscle spasms which have been preventing the Canadian icon from performing but her medical team has been continually monitoring her condition.
She said on Instagram: "I'm so sorry to disappoint all of you once again… and even though it breaks my heart, it's best that we cancel everything until I'm really ready to be back on stage… I'm not giving up… and I can't wait to see you again!"
A spokesperson for the songstress explained that while she continues to work on her recovery, she will be postponing her shows which were set to run from August 26, 2023 through til October, before continuing her performances in March 2024.
It comes after Celine had successfully completed over 50 dates of the Courage World Tour across North America before Covid-19 struck.
In an update shared on Celine's official website, she encouraged valued fans to speak directly with the original point of sale in order to obtain a refund.
Her followers have since responded to her upsetting news, with one typing: "Take care of your health Ms. Dion, that's #1. Much love."
"I love you so much and I'm praying that you get well my queen. all love," replied a second.
A third wrote: "Don't worry lovely, take all the time you need. Sending you Hope & Love, wishing you well." (sic)
"You need to take care of you and do what's right for you take care, stay strong," said another.
In April Celine dropped a surprise single that was accompanied by an announcement video revealing some exciting news.
The new track was revealed to be just the tip of the iceberg, as the singer has a brand new album on the way.
The full-length, Love Again, will serve as the soundtrack to an upcoming movie, and it will feature five new songs by the Grammy winner. The CD is set to arrive on May 12, and it is available to pre-order now.
To get fans even more excited for the upcoming project, the new single was accompanied by a lyric video.
The treatment features scenes from the movie and gives fans a taste of what they can expect from the film.
In addition to her musical contributions, Celine will also make her film acting debut in Love Again.
Source: Read Full Article