Celebrity MasterChef viewers rage at Joe Swash as contestant misses out on final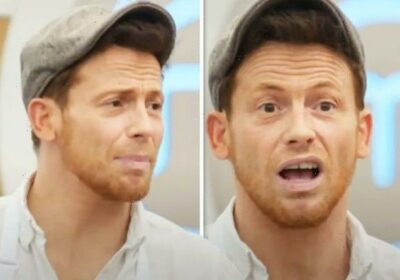 Celebrity MasterChef: Joe Swash says he's making a trifle
We use your sign-up to provide content in ways you've consented to and to improve our understanding of you. This may include adverts from us and 3rd parties based on our understanding. You can unsubscribe at any time. More info
Joe Swash, 39, has been competing in the latest series of the BBC cooking show Celebrity MasterChef. During tonight's episode, Stacey Solomon's other half went head-to-head with Dion Dublin, Kem Cetinay, Megan McKenna and Kadeena Cox.
The celebrity contestants were whisked off to Holborn Dining Room and placed under the tutelage of Calum Franklin, who is known for creating complex and elegant pies.
They were tasked with making the pies in just three hours.
The Celebrity MasterChef contestants then returned to the kitchen to make a sweet dessert.
Unfortunately, Kem was the unlucky one as hosts John Torode and Greg Wallace sent him home.
Viewers were left fuming by the decision, as some were shocked to see Joe make it through to the next round.
Taking to Twitter, Andrew wrote: "Cannot understand how Joe is still in #CelebrityMasterChef.
Chris Kelly remarked: "So how many of us feel that Joe will somehow win? The judges love him. #CelebrityMasterChef."
Angelica Slayer added: "Really quite surprised Joe is still there to be honest. His food has been quite subpar #celebritymasterchef."
"What's it going to take to get rid of Joe? #celebritymasterchef," Val Burgess quizzed.
However, other viewers were delighted to see the former EastEnders actor reach the final four.
Michaela said: "Would love @realjoeswash to win @CelebrityMasterChef and I don't care who knows it."
Dora penned: "Joe for the win."
DON'T MISS…
Katie Piper hits back at Saira Khan's 'toxic' Loose Women claims[LATEST]
Kate Garraway questions GMB boss 'Am I fired?'[TV]
Huw Edwards' flag returns as BBC host 'storms out' of awards[TWITTER]
Some viewers shared their disappointment at seeing Kem leaving the programme.
Stephan Isgate-Stone said: "Kem you were robbed #CelebrityMasterChef."
Chris Perry agreed: "Well I don't quite agree with that decision, poor Kem."
But others thought it was the right decision, as Jane Pike commented: "Sorry, but Kem was way overdue for going. He's decent at following recipes, but he lacks that palate or natural instinct.
"They've been fawning over him a bit & I thought they'd cling onto him again hence feeling a little jubilant!! #CelebrityMasterChef."(sic)
The next episode will see the four remaining finalists compete for the coveted win.
They will be put through their paces as they seek to be crowned the winner of Celebrity MasterChef.
The final episode of this year's Celebrity MasterChef airs Friday.
Celebrity MasterChef continues tomorrow on BBC One at 8pm.
Source: Read Full Article