Carol Vorderman gloats as Michelle Mone yacht is targeted by activists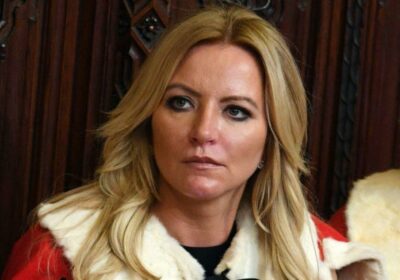 We use your sign-up to provide content in ways you've consented to and to improve our understanding of you. This may include adverts from us and 3rd parties based on our understanding. You can unsubscribe at any time. More info
Carol Vorderman shared with the world that the left-wing activist group Led By Donkeys had allegedly discovered disgraced lingerie giant Michelle Mone's multimillion pound yacht off the coast of Barcelona. The 62-year-old gloated that, in a reference to a financial scandal related to PPE equipment, the group had rebranded her boat Pandemic Profiteer.
Led By Donkeys shared a video on Instagram breaking the news that they had apparently finally tracked down her boat.
"Remember Michelle Mone and her luxury yacht?" they captioned a video, which included a clip of Michelle in her swimsuit.
"She's a Conservative peer who used her political connections to make tens of millions of pounds out of PPE that turned out to be unusable – money she kept in an off-shore tax haven where she has a house," the text read.
"We've been scouring the world for Michelle Mone's yacht and now we've found it here in a marina just south of Barcelona!"
READ NOW: Demi Moore's ex Ashton Kutcher was 'p****d' about her memoir
The video continued: "The government says it can't afford to pay nurses and other workers a fair wage, but there was enough money to dish out PPE contracts to Tory cronies.
"So here it is – we all paid for this yacht and that's why we've renamed it."
Carol, who had previously been friendly with the Scottish businesswoman but dropped her "immediately" when doubts began to emerge about her, shared her delight on Twitter.
"MICHELLE MONE @ByDonkeys have found her yacht and literally physically RENAMED IT… PANDEMIC PROFITEER. Watch the video to the end…" Carol told her 654,800 followers.
The former Countdown star, who also queried today as to when PM Rishi Sunak will publish his tax return, attached the video to her post, showing two men paste the new name to the boat.
Carol had previously taunted Michelle with the nickname "Baroness Bra".
She continued in another post: "It's claimed that [husband Barrowman] and Mone illegally benefited from upwards of £58m from PPE Medpro through trusts. You get the gist." (sic)
At the time, a spokesperson for Michelle Mone declined to comment on the tweets, and she has not publicly addressed them.
The comments come after Carol told ITV's This Morning viewers that she had "dropped" Michelle "like a stone, as soon as I realised what kind of person she was".
Michelle Mone denies any allegations of wrongdoing on hers and her husband, Douglas Barrowman's part in respect of PPE Mepro.
In a statement, she previously said: "I declared all necessary interests and have done nothing wrong."
Michelle is a former model who had a tough upbringing in Glasgow's East End and left school at 15 without qualifications.
However, an uncomfortable bra that had caused her irritation at a dinner party sparked an idea in her mind – and before long, the Ultimo lingerie brand was born.
The business rapidly grew, with bras flying off the shelves like hot cakes, and in 2010 she even received an OBE from the Queen.
Yet the allegations that have subsequently come to light cast doubt about her for Carol – and the fun-looking nights the pair once shared now seem to be firmly in the past.
Source: Read Full Article