Carol Kirkwood was unsure about getting married again after split from ex-husband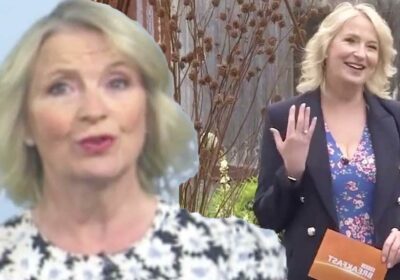 Carol Kirkwood confirms engagement and shows off ring
We use your sign-up to provide content in ways you've consented to and to improve our understanding of you. This may include adverts from us and 3rd parties based on our understanding. You can unsubscribe at any time. More info
Carol Kirkwood, 59, beamed today as she confirmed her engagement as she appeared on BBC Breakfast. The weather presenter had kept her private life away from the spotlight and revealed she was in a new relationship in an interview last year.
Carol gushed about her now-fiancé last year as she described him as "best thing that's ever happened to me".
She said: "I don't want to say too much about my boyfriend, but I will say that he is very kind and very funny – he's always making me laugh.
"And extremely handsome, as well," she added to Prima magazine.
The presenter continued: "He always makes me a cup of tea before I go to work in the morning, which is very romantic – it's 2.45am and he often leaves me a little love note for when I come home from work.
"That, to me, is worth a million red roses."
However, the former Strictly Come Dancing star also said she is uncertain over whether or not they will get married.
Carol concluded: "He is the best thing that's ever happened to me, without a shadow of a doubt."
The BBC star split from her husband of 18 years, Jimmy Kirkwood, back in 2008.
Before their divorce, Carol and Jimmy had been married 18 years.
Speaking about how the breakup changed her perspective on life, Carol explained: "I found myself when I got divorced.
"I started to do things and to think, 'I'm not going to say no, I'm going to say yes!"
Carol gave BBC Breakfast viewers the news of her engagement today as she presented from the Chelsea Flower Show on the BBC show.
Speaking to Sally Nugent and Jon Kay, Carol explained that her fiancé popped the question while they were on holiday after the former noticed the ring on her engagement finger.
Sally jokingly pointed out: "I'm a bit concerned about how you're standing up with a giant rock on that left hand."
"Thank you Sal! It is rather nice. I got engaged!" Carol confirmed as she showed off her ring.
Sally said: "It's the happiest news! We are so, so delighted. Congratulations. Can we confirm to the nation what has happened?"
"Oh thank you! I think you just have Sally," Carol quipped.
"We got engaged when we were on holiday. So it's lovely news and we're both thrilled. Thank you!"
"We're all so chuffed for you, Carol, on behalf of everyone here and everyone at home too," Jon added.
The BBC Breakfast studio then erupted in applause while Carol simply smiled at the camera and pointed out that the couple were yet to make plans for their nuptials.
"Are you looking for a spot for the marquee while you're at Chelsea?" Jon enquired.
Carol said: "I'm taking note of all the flowers Jon. No, no plans afoot yet."
"Congratulations, we love you both," Sally said before confirming she was already in the know.
Source: Read Full Article