Car Used by Young Dolph Killers Allegedly Found, Possibly Connected to Double Shooting in Covington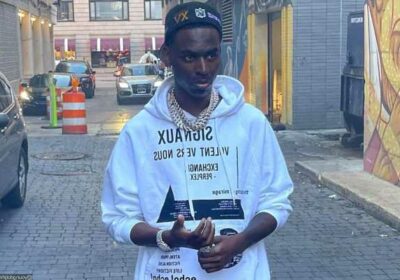 Hours after the Memphis Police Department confiscated the vehicle believed to be used by Dolph murderers, a man is shot and killed just feet away from where the car was discovered.
AceShowbiz -Authorities may be closer to finding the suspects in Young Dolph murder. Police have located a car which was allegedly used by the killers to get away after shooting the rapper to death earlier this month.
The vehicle was located Saturday, November 20 in the Orange Mound neighborhood of South Memphis on the 1100 block of Bradley Street, according to FOX13 which claimed to have confirmed it with several sources.
Several photos and videos circulating online show a white 2-door Mercedes Benz being towed out of a driveway of a residential home with police surrounding the area. The car, which is reportedly still intact, matches with the one seen in photos released by cops to ask the public for help in locating the shooters.
And now the getaway car is linked to a double shooting in Convington. In a statement, the Covington police department said, "We also feel confident that the vehicle used in the shooting of Young Dolph was also used in our shooting. We are working closely with the Memphis Police Department and other agencies."
The double shooting took place on November 12. Two women were shot after attending a high school football game at the time. One of the victims, Anita Wilson, died from her injuries.
"There was a vehicle behind them weaving back-and-forth and apparently running up on them fairly closely," Covington Police Chief Lindsey said. "Two subjects exited the vehicle and open fire on the two victims."
Later, just one day after the car was confiscated by police, one person was shot and killed near where the vehicle was found. Memphis Police Department confirmed it in a tweet which read, "At 1:56 pm, MPD responded to a shooting in the 1100 block of Bradley St. One victim was located and was pronounced dead at the scene. The suspect fled in a black sedan. Call 901-528-CASH with tips."
As reported before, Dolph was shot and killed on November 17 while shopping at Makeda's Homemade Cookies. He was in town for his annual Thanksgiving giveaway, which was scheduled for Wednesday afternoon. The event was eventually carried on by his team on Friday.
Source: Read Full Article