Brittney Taylor Reacts to BD Afeez Akande's Message to Kids After Her Assault Arrest: Leave Me Alone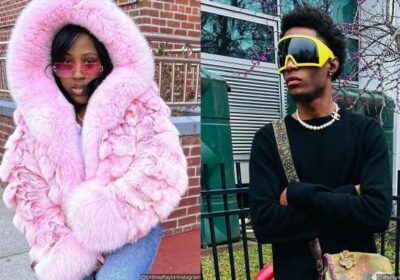 Previously, the 'Love and Hip Hop: New York' star claimed that the father of her two minor kids 'has been beating' her 'for years' after she's arrested for hitting him with a baseball bat.
AceShowbiz –Brittney Taylor wants the world to know her side of the story. The "Love & Hip Hop: New York" star has responded to her baby daddy Afeez Akande's message to their minor kids after she was arrested for hitting him with a baseball bat.
On Wednesday, March 29, the 33-year-old reality star wrote via Instagram Story, "The Obsession is beyond me. Honestly and truly I just wanna be left alone. But crazy just don't stop!" She went on, "It's not my fault ya 'Master plan' failed and back fired on yall. God don't like Ugly. And he don't like Liars."
Brittney further stated that she's "enough going on," before adding that she's "still being harassed by a maniac." The VH1 star later declared, "This person just does Not stop. Tried to file for restraining order but it's the whole extra process because we're in 2 different states." She then concluded her post with hashtags that read, "#MoveOn," "#GetaGrip" and "#leavemealonealready."
Prior to that, Brittney reposted a quote that read, "When God says he'll give you back better than what you lost, believe him…" She also thanked her fans for all the outpouring support, saying, "I SEE ALL THE LOVE! THANK YALL SO MUCH!"
"I hate that my trauma had to be the reason so many loves ones have reached out but everything happens for a reason," Brittney continued. She then promised, "Soon my story will be heart. Just gotta be done on my terms the right way. I'm not gonna let the pressures of this fake media bs rush me."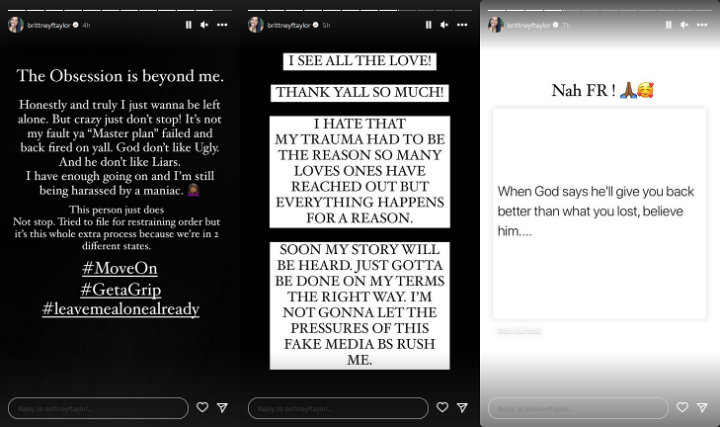 Brittney Taylor responded after baby daddy Afeez Akande shared message to their minor kids following her assault arrest.
Brittney's posts came after Afeez shared a message to his 2-year-old and 8-month-old kids. In a now-deleted Instagram post he said, "To my daughter Legacy, I am so proud to be your dad and will fight tooth and nail, as I have been for months, to have you and your brother in a stable home with me. To my son Lejin, your strength has amazed me every single day since God blessed me with you."
"I am so sorry you all have had to endure pain, lies, violence, and deceit at such a young age. Daddy loves you both and will fight even harder to have you both in my arms again World, meet Legacy and Lejin Akande The next generation," Afeez penned. In the post, he also included screenshots of a conversation he allegedly had with Brittney.
In one snap, Afeez accused her of being "bitter" and harassing "every girlfriend I'm with." He also claimed she threatened to "kill" him. Despite his post, his comment section has been flooded with other women coming to Brittney's defense after she spoke and said she's a victim of domestic violence.
Brittney was arrested and charged with assault after allegedly beating Afeez with a baseball bat. Following the arrest, she took to her Instagram account to share her side of the story. "Speaking of DV. This Nigerian man has been beating on me for Years. He feels like women should obey their man and if they talk back they deserve to be hit," she shared, "SMH, He's abusing me mentally and physically. He's beat me infront of my child more than twice." She then included some videos and photos of her bruises.
You can share this post!
Source: Read Full Article