Britney Spears reportedly eyeing new home with fiance, plus more news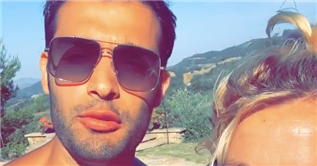 Britney Spears and Sam Asghari reportedly want to relocate after the conservatorship ends
With her father suspended from managing her estate and a new sparkler on her finger, Britney Spears is reportedly planning to buy a home with her fiance, Sam Asghari. Citing "sources close to" the singer, TMZ reports the two want to be closer to Los Angeles and Hollywood. Britney's also reportedly eager to ditch the house in the San Fernando Valley where she's felt like a "hostage" for years because of the constraints of the conservatorship her dad, Jamie Spears, has had her under since 2008 — restrictions Britney claims included a nix on future marriages or kids. Jamie has denied those and other serious allegations about the degree of control he placed over his daughter's life — but was still given the boot from the conservatorship this week. Britney, 39, announced her engagement to Sam, 27, last month.As for the house, TMZ's sources say the happy couple will wait until the conservatorship has been dissolved to move forward with their plan to relocate. The next hearing in Brit's case is slated for November.
RELATED: Celebrity engagements of 2021
Katie Couric shares new details about conflicted friendship with Matt Lauer
After Matt Lauer was fired from "Today" in 2017 amid credible allegations of sexual misconduct, his longtime colleague Katie Couric felt it was "heartless to abandon him," she writes in her controversial forthcoming memoir, "Going There." Per the Daily Mail, Katie, 64, recalls texting Matt "I am crushed" when she learned he would not return, despite the reasons for which he was asked to leave. The veteran journalist also writes that she told Matt she loved him and was "here" for him in an effort to comfort him after he lost his job. "Please let me know if you want to talk. There will be better days ahead," she recalls saying. The allegations against Matt ranged from a woman who said he exposed himself to her at work to another who accused the then-anchor of sending her a sex toy. After he was fired, other women alleged he sexually assaulted them, according to the New York Post. Katie says she'd heard "whispers" about his behavior before and admits she read about "the awful things" he had allegedly done. Utimately determined Matt had been "an excellent professional partner, a good friend and a predator." She also reminds readers, "The general rule at that time was: it's none of your business." "Going There" is due out in late October.
RELATED: Katie Couric reveals unflattering details about Prince Harry, Prince Andrew in new memoir
Colin Jost's mom is not sold on baby Cosmo's name
Colin Jost and Scarlett Johansson revealed over the summer that they named their new baby Cosmo — a name that apparently left Colin's mother a bit confused. "My mom, I would say, was slightly thrown by [the name] and didn't quite understand it," he told Seth Meyers on "Late Night" this week. "She would call us, after three or four days, she'd be like, 'Cosmo…' She'd be like, 'And, now, is it final? Like, did you submit the birth certificate?' And we're like, 'Oh, yeah, we did that at the hospital. She was like 'Oh OK, interesting. Because I was reading that there's also a name Cosimo with an 'I' so that could also be an option. Maybe you call him Cosimo, that's his real name, but then you can call him still Cosmo,'" he continued, getting a chuckle out of the late-night host. Colin's grandmother, on the other hand, worked out how to live with the name. "She lives in Staten Island, eventually she started meeting various members of the Italian community who have a lot of Cosmo relatives," the "SNL" writer and star explained. "So then she would call and she would say, 'I met someone they said their uncle's name is Cosmo. So, it is OK.' And I was like, 'It's locked in!'" Colin and Scarlett tied the knot last year.
RELATED: See which other stars had babies in 2021
Kim Kardashian West, Kanye West catch up over dinner at Nobu amid divorce
As Kim Kardashian West and Kanye West continue to navigate their divorce, relations between the two seem to be on good terms. This week, the parents of four stepped out for dinner at Nobu Malibu together with friends and colleagues. "It seemed like a business dinner," a source told People in a report published Oct. 1. "Kim and Kanye sat next to each other. They acted more like friends. Kanye was in charge of the conversation. Kim was more quiet. Kanye also picked up the check." While things were reportedly tense between Kim and Kanye after Kim filed for divorce in February, they are believed to have improved by August. "It's taken them months to get to this point. Kim is happy that they get along and that things are amicable," an insider told People at the time.
Lady Gaga on how Tony Bennett informed her 'House of Gucci' performance
Lady Gaga and Tony Bennett, whose third collaboration, "Love For Sale," is out this week, have become close friends since they first worked together years ago. That friendship even informed how Gaga approached her latest major feature film role, she recently told the Wall Street Journal. "I knew I was about to play a murderer," Gaga says of her role as Patrizia Reggiani in "House of Gucci." "I also knew how Tony feels about Italians being represented in film in terms of crime," she continues. "I wanted to make a real person out of Patrizia, not a caricature. I felt the best way to honor Maurizio and Italians was for my performance to be authentic, from the perspective of a woman. Not an Italian-American woman, but an Italian woman." Long before she began shooting the film in Italy, Gaga reportedly devoted six months to nailing an Italian accent. She said she then followed that by speaking in the accent for the next six months. Ridley Scott's "House of Gaga" tells the story of Patrizia's alleged murder, via a hitman, of her ex-husband, Maurizio Gucci, the former head of the Gucci fashion brand. It hits theaters Nov. 24.

Source: Read Full Article