Britney Spears' Fiance Sam Asghari Seemingly Throws Shade at Justin Timberlake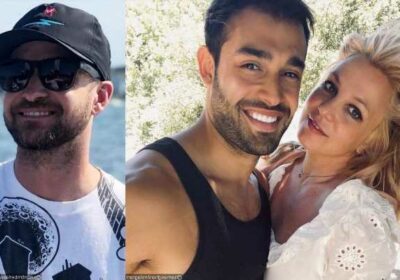 Fans believe that the personal trainer and the 'Can You Keep a Secret?' actor is taking a low-key dig at the 'Mirror' hitmaker after the former makes a reference to the singer's song.
AceShowbiz –Britney Spears' fiance Sam Asghari might have things left to say to her ex, Justin Timberlake. Fans believed that the Omar depicter in "Can You Keep a Secret?" recently threw shade at the "Holy Grail" hitmaker with his social media post.
On Saturday, November 20, Sam shared a screenshot of a Variety article titled, "Britney Spears' Fiance Sam Asghari Thanks Pop Singer for Helping Put His Acting Career 'On the Map' " on his Instagram Story. Alongside the post, he wrote "Bringing sexy back is cool And all but bringing (real) back in Hollywood is even sexier," adding a winking face with tongue emoji.
Many have since reacted to Sam's post as they believed that he made a reference to Justin's 2006 hit song, "Sexyback". "Did sam asghari just drag justin timberlake," one Twitter user wondered. Another individual echoed the sentiment by tweeting, "Did Sam just shade JT?"
Justin has yet to react to Sam's shady post, which arrived more than a month after Britney poked fun at her ex-boyfriend. In mid-October, the "Toxic" hitmaker shared a video of herself dressing up as the girl from Justin's music video for "Cry Me a River", which is believed to be about their breakup.
In the accompanying message, Britney wrote, "Thoughts while making this video … Hmmmm something looks familiar …. The hat …. wait I look like that girl in the Justin Timberlake video with that hat in Cry Me A River !!!" She then joked, "Oh s**t that's ME !!! I'm Britney Spears ??? I guess I forget that sometimes."
"Oh s**t I look like a doctor in this video too though with the white coat … maybe I'M THE DOCTOR … I mean who's playing who ??? I mean my brother wears that kind of hat … but wait the skirt … I haven't worn a skirt in forever !!!" the older sister of Jamie Lynn Spears added. "Am I Britney Spears ??? Psssss HMMM, all this time ??? Play on my icons … play on!!!!"
Source: Read Full Article