Bradley Cooper 'Wasn't Serious' With Dianna Agron Before Dating Huma Abedin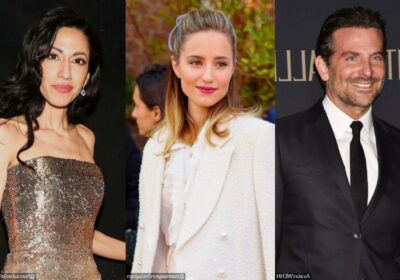 Words are the 'A Star Is Born' actor/director was 'casually dating' the 'Glee' alum but broke up with her to date the ex-wife of former congressman Anthony Weiner.
AceShowbiz –Bradley Cooper was apparently not entirely single when he was pursuing a relationship with Huma Abedin. Rumor has it the actor was quietly seeing actress Dianna Agron, but broke it up to date Hillary Clinton's former top aide.
However, Dianna might not feel hurt that much as her relationship with Bradley was never serious in the first place. "He was casually dating Dianna when he and Huma started, but it wasn't serious with Dianna yet," a source has clarified to Us Weekly, after news broke of "The Hangover" star dating Huma.
Previously, Page Six reported that Bradley and Huma are an item, thanks to Vogue editor Anna Wintour who introduced them. "Bradley has been quietly dating Huma for a few months now, [and] they've been keeping it really quiet," a source told the outlet. "Bradley broke up with Dianna Agron and started dating Huma."
"Anna definitely played matchmaker," the source further explained. "She's BFFs with Bradley and adores Huma." The insider also explained that the 47-year-old actor/director and the 46-year-old political staffer share many interests. "They are perfect for each other," the unnamed informant shared. "They're both into power and politics and human affairs."
According to the publication, Bradley and Huma arrived together at the Met Gala on May 2. However, the alleged couple split up for the red carpet.
Bradley was briefly married to actress Jennifer Esposito in 2006, before she filed for divorce in May 2007. He famously dated Irina Shayk for four years from 2015 until 2019. Together, they share 5-year-old daughter Lea de Seine.
As for Huma, she was previously married to former congressman Anthony Weiner, with whom she shares a 10-year-old son. Following his infamous sexting scandal, she announced her separation from the politician in 2016.
Source: Read Full Article