Brad Pitt's daughter Shiloh's early gender struggles and desire to live as a boy unearthed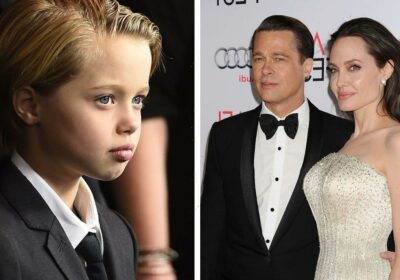 Brad and Angelina Reportedly Consulting Transgender Expert for 9-Year-Old Shiloh
We use your sign-up to provide content in ways you've consented to and to improve our understanding of you. This may include adverts from us and 3rd parties based on our understanding. You can unsubscribe at any time. More info
Brad Pitt and Angelina Jolie's daughter Shiloh insisted on being called John, asked for a cropped haircut and boy's clothes and, according to the family, identified as "one of the boys". Shiloh was the couple's first biological child – and fortunately both parents were accepting of her desire to live "like a little dude", although Brad claimed that some people might find it "obnoxious".
She only wants to be called John!

Brad Pitt
Brad, 58, whose film Bullet Train premiered last week, was almost in tears on the red carpet at one of his Los Angeles promotional events, while talking about how proud he was of Shiloh's progression.
He was instantly accepting of the desire she once had to self-identify as a different gender, as unearthed footage reveals.
In a 2008 interview with US talk show host Oprah Winfrey, Brad explained: "She only wants to be called John."
He added fondly: "Then I'll say, 'John, would you like some orange juice?', and she goes, 'No!'
"It's just that kind of stuff that's cute to parents and it's probably really obnoxious to other people," he joked.
He added that Shiloh also enjoyed being referred to as "Peter" due to her penchant for the film Peter Pan.
Shiloh's alternative gender first emerged when she was just three years old.
However she is believed to currently still use the pronouns "she" and "her", as that is the way Brad and Angelina refer to her in their interviews.
Angelina, 47, told the Daily Mail: "I don't think it's for the world to interpret anything.
"She likes to dress like a boy and wants her hair cut like a boy and she wanted to be called John for a while."
The Maleficent star reasoned: "Some kids wear capes and want to be Superman and she wants to be like her brothers. It's who she is."
She admitted that the transformation at such a young age had "been a surprise" but that they found it "interesting".
Angelina also defended that Shiloh, who is currently accepting of her given name, is "so much more than" her gender. "She's funny and sweet and pretty – but she does love a tie," the glamorous actress acknowledged.
On a separate occasion, she again revealed her daughter's preferences, suggesting that her androgynous style was similar to how some women dress in Montenegro.
She told Vanity Fair: "She dresses like a little dude. It's how people dress there. She likes tracksuits, she likes suits."
Shiloh had also been a fan of oversized hoodies, polo shirts and blazers with masculine tailoring.
At early red carpet events for Brad, Angelina and family, she would dress like and identify with brothers Maddox and Pax, shying away from Angelina's feminine style.
However, in recent years, now that she has turned 16, she seems to be adopting a more feminine look.
She has allowed her hair to grow longer and recently took her place alongside Angelina and adoptive sister Zahara at an event wearing a chic black dress.
However Shiloh chooses to identify in the future, Brad and Angelina, who seem committed to co-parenting in spite of their divorce, have both made it clear they will accept her.
Source: Read Full Article