Boosie Badazz Called Out for Suggesting A$AP Rocky to Get Rihanna Pregnant ASAP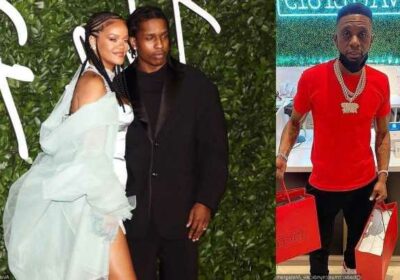 During an interview with VladTV, the 'Wipe Me Down' rapper says he's happy for the couple and shares his thought on how the A$AP Mob member should lock down the 'Umbrella' hitmaker.
AceShowbiz -Boosie Badazz (Lil Boosie) has disgusted Rihanna's fans with his comment on her relationship with A$AP Rocky. Weighing on the A$AP Mob member's recent declaration that she's "the love of my life," the Baton Rogue native gave some unwarranted advice to the younger rap star on how to lock her down.
Asked about Rocky's interview in which he talked about his romance with the Barbadian beauty, Boosie said he's happy for the couple, though he has in the past expressed his interest in the "Umbrella" hitmaker. Admitting that everyone has fantasy and Rihanna is that one fantasy of him, he stated that he hasn't been bringing up Rihanna's name recently out of respect for the couple.
Boosie then advised the couple to take their relationship to the next level, saying, "He need to put a ring on it. They look good together two." When Vlad suggested that Rocky should get Rih pregnant soon as saying, "You would put a baby in there, really," the "Wipe Me Down" MC agreed with the interviewer.
Many, however, disagreed with Boosie and Vlad, and even called them out for their notion on how Rocky should lock down RiRi. "I wish Boosie would take his ignorant a** inside a deep hole and SIT. Throw Vlad's ugly a** in there too," one person commented on the interview.
Another declared, "I legit despise Boosie." A third person took issue with their advice, "The ideology from these men sucks. They claim women are trying to trap them into having a baby and then you hear stuff like this so it makes me wonder, who is trapping who?"
"Men are disgusting. F**king ew!" a fourth person remarked, while another blasted men in general, "Men are psychos!" Someone else told both men to mind their own business, and another came with more decent advice for Rocky while calling out Boosie and Vlad, "ASAP if you reading this, TAKE YOUR TIME! If you want to really lock her down, MARRY her! Don't listen to these idiots!"
Source: Read Full Article