Ben Shephard congratulates GMB co-star on big move away from ITV show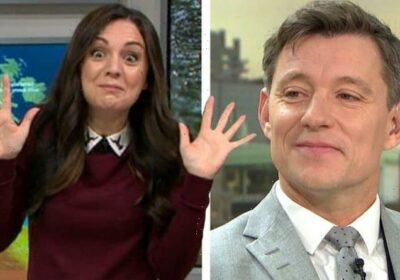 GMB: Laura Tobin forecasts patchy rain
We use your sign-up to provide content in ways you've consented to and to improve our understanding of you. This may include adverts from us and 3rd parties based on our understanding. You can unsubscribe at any time. More info
Ben Shephard, 47, rushed to wish weather presenter Laura Tobin a big congratulations, after she revealed she had written a new book. In a huge move away from Good Morning Britain, where viewers will usually find her, the meteorologist has gathered all her knowledge on climate change and put together her top list of 100+ sustainable ways to change our habits that will impact the environment positively.
Congrats Laura can't wait to read it!!

Ben Shephard
Taking to Twitter, she announced the exciting news.
"Aagghh – I'm so excited I can finally say-I've written a book!" she penned.
"We're all more aware & informed about #ClimateChange.
"Over the last year I've had so many people ask me, 'What can I do?' And 'Will it make a difference?'
"My answer is LOTS & YES."
Ben was quick to reply to his colleague, saying: "Congrats Laura can't wait to read it!!"
Entertainment correspondent Andi Peters also chimed: "Hooray!! You've written down some of that vast knowledge that's in your head for us all to read and enjoy and learn. Congratulations."
Someone else added: "Great to hear, pity its a bit late for Christmas."
Laura responded to the disappointed fan, as she explained why a Christmas deadline wasn't possible.
"Thanks, I wanted all the latest science and outcome from COP26 which meant it wouldn't be ready for Christmas! But a good way to start 2022!
Another viewer made a joke in referent to her absence from GMB this week: "I thought you were pulling a sickie?" they wondered.
"Unfortunately I'm also sick!" Laura sighed.
"Was hoping to share the news with my work colleagues first! But now everyone knows together."
Others rushed to the comments section to shower her with praise, with another adding: "Long overdue, Laura. Cannot wait to read such an insightful, intuitive and informative book."
But of course, with an issue like climate change, she was hit with a flurry of messages from viewers who branded her "hypocritical".
One snapped: "The way to save the planet, Laura, is to not travel to all the events across the country and elsewhere showing us things on TV."
A second agreed: "Queen of climate? Just another hypocrite… do as I say not as I do!! Let's travel all over to read the weather! Something anyone can do! Should be working from home."
A third accused her of wanting to make some "easy cash", retorting: "From someone who travels the world to tell us that traveling the world is killing the planet. Another ITV moron preaching to us so they can boost their profile and make some easy cash."
Nevertheless, Laura's book is available on pre-order now, and will be released on 7 April 2022.
GMB continues this morning on ITV at 6am.
Source: Read Full Article