BBC's Carol Kirkwood in rare insight into early mornings with myste…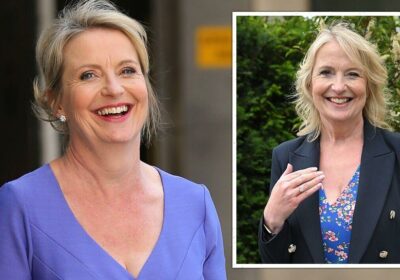 BBC Breakfast: Sally Nugent apologises to Carol Kirkwood
We use your sign-up to provide content in ways you've consented to and to improve our understanding of you. This may include adverts from us and 3rd parties based on our understanding. You can unsubscribe at any time. More info
Beloved BBC weather forecaster, Carol Kirkwood, 60, got engaged in early 2022 to a mysterious fiance. Thus far the broadcaster has been incredibly secretive about her personal life and has now revealed not only her fiance's name but also the incredibly sweet way he brightens her mornings.
Carol has been presenting the weather forecast on BBC for over two decades, but morning television often means the star has to be up while some are still getting to bed.
The broadcaster revealed she usually gets up around 2:45am in order to be on time for her slot on BBC Breakfast.
However, despite waking up hours before dawn, her fiance is always waiting with a fresh cup of tea to help her start her day.
Speaking on BBC Radio London with Riz Lateef on Thursday, the broadcaster gushed over her partner saying: "He's a keeper I tell you!"
Carol admitted she always tells him to simply go back to sleep as her alarms go off, but he insists on making her tea.
She continued: "He packs my breakfast as well.
"He puts my cereal in a container and my spoon and everything's out, it's always there when I'm leaving.
"Well done Steve!"
Carol and the mysterious Steve got engaged in May 2022 and the broadcaster announced the news on live television.
While presenting live from the Chelsea Flower Show, Carol's colleague Sally Nugent was quick to spot her new piece of jewellery.
Sally jokingly probed: "I'm a bit concerned about how you're standing up with a giant rock on that left hand."
Carol confirmed her partner had popped the question while the pair were away on holiday before returning to her reporting job at hand.
Chelsea Flower Show has been a poignant part of Carol's career, marking many milestones for the broadcaster.
However, not all of them were as joyous as an engagement announcement, as she revealed to Riz.
Carol recalled one on-air blunder she described as a "classic" which occurred a few years ago.
The presenter had spotted a guide dog at the flower show and began presenting her segment knelt down next to the pup.
She shared: "As I was presenting and then her mum, her trainer, came round the corner and she saw her and she was 'There's mum!' and she was off."
For fear of the pup destroying the gardens surrounding them, which were still being judged, Carol kept her grip on the dog's lead as it ran off.
The broadcaster continued: "So she went off to see her trainer, she dragged me with her and I just went flop down on my face.
"It wasn't very glamorous at all."
Source: Read Full Article